Camping at
Prairie Creek Redwoods
State Park
Location
Newton B. Drury Scenic Parkway, 1 mile from Hwy. 101
5 miles north of Orick
(707) 488-2039
Open year-round
Campground Facilities
Gold Bluffs Beach Campground: 26 tents-only campsites
Elk Prairie Campground: 75 campsites (21 of which are tents only)
Hike and Bike site
Restrooms, coin operated showers
Amphitheater
Park Features
Visitor Center, Nature Store
Hiking trails
Herds of wild Roosevelt Elk
Gold Bluffs Beach
Fern Canyon
Accessibility
campsites, restroom
Parking
Many hiking trails
Beach wheelchair at Gold Bluffs Beach Campground kiosk. (707) 601-4634
Reservations and Fees
Online Reservations at ReserveCalifornia:
Elk Prairie State Park Campground Reservations
or call (800) 444-PARK (7275) between 8 AM and 6 PM
Gold Bluffs Campgrounds has no reservations. It is first-come, first served.
$35 per night
Hike & Bike - $5
Gold Bluffs Beach Campground
Gold Bluffs Beach Campground is located at the edge of the sand at Gold Bluffs Beach, 6 miles from Highway 101 on Davison Road. Unpaved, narrow, and winding, Davison Road is closed to trailers of all kinds and not advised for RVs. Maximum vehicle length is 24 feet. The campground is open year-round. Its 26 campsites are for tents only.
Campground Features
The campground has restrooms with flush toilets, piped water, coin operated showers, and an amphitheater. Each campsite has a picnic table, a food storage locker, and a fire ring with a grill. Campsite #26 is designated as wheelchair accessible. Restrooms and showers are also accessible. Campsites are limited to 8 people and 2 vehicles each. So close to the ocean, the campground can be cold and damp.
Campground Map
Gold Bluffs Beach Campground Map
No Reservations
The campground has no reservations available; all sites are first-come, first-served. Campsites are $35 per night.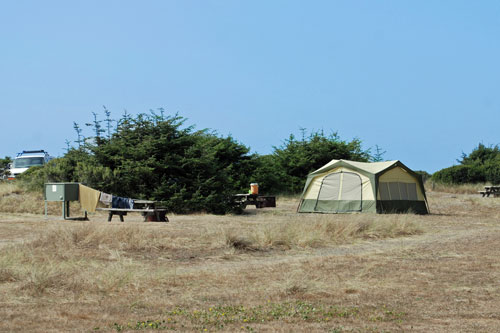 Gold Bluffs Beach Campground
Camping at Patrick's Point State Park
Location
4150 Patrick's Point Drive
6 miles north of the town of Trinidad
(707) 677-3570
Day-use fees: $8
Campground Facilities
3 campgrounds: Abalone, Agate, and Penn Creek
123 campsites in all
Penn Creek's 14 campsites are tents-only
2 Group Sites
Hike and Bike Campsites
Restrooms with showers
Dump station
Amphitheater
Park Features
Spectacular Patrick's Point
Agate Beach
Visitor Center
Hiking trails
Tide pools
Recreated Yurok village
Accessibility
Several campsites
Parking, restrooms with showers
Visitor Center
Campsite Features
Table and fire ring
Trailers, RVs up to 31'
No hook-ups
Food lockers
Fees
$35 for standard sites
$45 for premium sites
$300 per night for group site
$5 for Hike & Bike sites
Reservations
Reservation Dates:
Abalone Campground open year-round
Penn Creek and Agate open late May - early September
Online Reservations at ReserveCalifornia:
Patrick's Point State Park Campground Reservations
or call (800) 444-PARK (7275) between 8 AM and 6 PM
Find the Best Camping in California

Throughout the Redwood Empire
Beach camping from San Diego to Humboldt
And everywhere else up and down the Golden State
Complete campground information, including fees, reservations, photos, facilities, and nearby recreation.
Klamath Area RV Parks
Klamath River RV Park
700 W. Klamath Beach Rd., Klamath, CA
(707) 482-2091
Klamath River RV Park
RV Park Amenities: WiFi, clubhouse, laundry, hot showers, boat docks, boat ramp, putting green, pool table, games & movies, store, gift shop
Campsites: RV and tent sites up to 60' length, full hook-ups, riverfront and mountain views, 30 amp, satellite TV
Rates: $$
Klamath Camper Corral
Hwy. 101 at the 769/Terwer Valley exit, Klamath, CA
(800) 701-7275
Klamath Camper Corral
RV Park Amenities: Restrooms, showers, evening campfires, gathering room, dump station, recreation hall, swimming pool, store, fitness room
Campsites: Pull-through sites, full hook-up or water and electric only, cable TV, tent camping
Rates: $$
Kamp Klamath RV Park & Campground
1661 West Klamath Beach Road, Klamath, CA
(707) 482-0227
Kamp Klamath RV Park & Campground
RV Park Amenities: Camp store, showers
Campsites: WiFi,full hook-ups picnic table, fire pit, tent sites
Rates: $$
Mystic Forest RV Park
15875 Hwy. 101, Klamath, CA
(707) 482-4901
Mystic Forest RV Park
RV Park Amenities: Gift shop groceries, club house, recreation room restrooms, hot showers, laundry, small playground
Campsites: RV and tent camping, full hook-ups, 30 amp, cable TV
Patrick's Point Area RV Parks
Azalea Glen RV Park
3883 Patricks Point Dr., Trinidad, CA
(adjacent to Patrick's Point State Park)
(707 )677-3068
Azalea Glen RV Park
RV Park Amenities: Playground, bath house and laundry, pet areas, contemplative ponds, art gallery
Campsites: 38 campsites, full hook-ups, cable TV, WiFi, picnic table, fire pit
Rates: $$
Sounds of the Sea RV Park
3443 Patricks Point Dr., Trinidad, CA
(near Patrick's Point State Park)
(707) 677-3271 or (877) 489-6360 Sounds of the Sea RV Park
RV Park Amenities: Fitness center, laundry, store, spa, cabins available
Campsites: full hook-ups, 30 and 50 amp, cable TV, WiFi, some sites with ocean views, tent sites available
Rates: $$
Emerald Forest
753 Patricks Point Dr, Trinidad, CA
(707) 677-3554
Emerald Forest RV Park
RV Park Amenities: WiFi, bath houses and showers, mini-market, laundry, bike rentals, playground, fish cleaning station, arcade, tent sites available
RV Sites: Full hook-ups, cable TV,
Rates: $$
Books of Local Interest