Half Moon Bay State Beach
Four beaches line up along the Half Moon Bay coast to form a two-mile ribbon of white sand that makes up Half Moon Bay State Beach: Roosevelt Beach, Dunes Beach, Venice Beach, and Francis Beach.
A fifth beach, Cowell Ranch Beach, also part of the state beach, is located 3 miles to the south.
The main entrance to the state park is at Francis Beach on Kelly Avenue. There are also entrances off Venice and Young avenues.
To the north of the main four beaches, Pillar Point's breakwaters provide a buffer against ocean swells, resulting in fairly calm surf along the state beach.
Half Moon Bay Beaches
The Coast Trail passes through the four contiguous beaches, making it easy to move from one to the other. Dogs are not allowed on any of the beaches.
Roosevelt Beach
Roosevelt Beach has a parking area accessed off Young Avenue. Previous visitors mention that the final approach road is narrow and should be taken slowly. At the parking lot are restrooms and a picnic area. Several short trails lead through the dunes to the beach.
Less well known than its neighboring beaches, Roosevelt tends to see fewer people.
Dunes Beach
Access Dunes beach via Young Avenue off Highway 1 (Cabrillo Highway). You will find a parking lot situated on a low bluff and restrooms. The trail down to the beach requires cautious footing. Previous visitors note how clean the sand is. Recesses up against the bluff make good places to seek shelter when the wind is blowing hard.
Venice Beach
Venice beach has a few more amenities than either of its neighbors to the north but still does not attract large crowds. Venice Boulevard leads to the beach entrance where the road splits left and right into a pair of parking areas, each with restrooms. Short paths and service roads lead down to the beach through the dunes. Outdoor showers are available to wash off sand.
Pilarcitos Creek empties into the ocean at Venice Beach, at times in the past creating health hazards due to its poor water quality. Sweetwood Park, situated between Dunes and Venice beaches, has a group camping site that can accommodate 50.
Francis Beach
Francis Beach is the headquarters of Half Moon Bay State Beaches. Facilities there include campgrounds and a visitor center. There are also restrooms, outdoor showers, and a picnic area with BBQ pits. Access the beach by taking Kelly Avenue off Highway 1. This is the only beach with a lifeguard on duty during busy times.
Cowell Ranch Beach
Cowell Ranch Beach is part of Half Moon Bay State Beach. Cowell Ranch Beach is located 3.4 miles south of Half Moon Bay, and 0.6 miles south of Miramontes Point Road. A small parking lot is situated on the west side of Highway 1 where you'll find space for about a dozen vehicles and a portable toilet. From there a trail leads 0.5 miles to a stairway down to a pleasant pocket beach.
If you stay up on the bluff and continue on the main trail beyond the stairs you quickly come to an overlook at the end of a bluff. From there you can gaze down on a harbor seal preserve at the next beach to the south. Harbor seals give birth there in March and April. The harbor seal preserve is off-limits to people. Benches and a new wheel-chair accessible telescope are available there on the overlook.
Cowell Ranch Beach is the northern end of the Cowell-Purissima Trail, a section of California Coastal Trail. Open on weekends, the 3-mile trail leads south to Purissima Creek.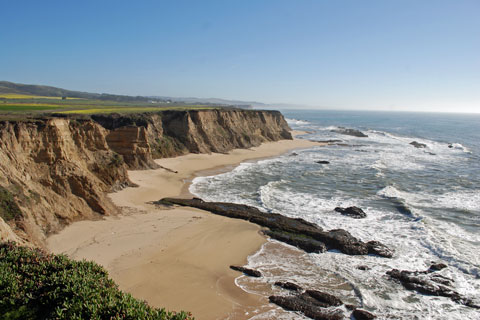 Ocean Safety
California State Parks and Recreation cautions that "large surf, cold water temperatures, backwash, sudden drop-offs, pounding shorebreak, and dangerous rip currents can turn what seem like safe activities such as playing near the surf line, wading, or climbing on rock outcroppings, deadly." Learn more about ocean safety at CA State Parks: Ocean Safety