Nearby Beaches

Hermosa Beach
Location
Pier Avenue and The Strand
Hermosa Beach, CA
Admission
Free
Hours: 6:00 AM to midnight
Parking:
City lots and street parking (see parking details - left)
Hermosa Beach is owned and operated by the City of Hermosa Beach
Main Attractions
Surfing
Hermosa Beach Pier
Volleyball
Facilities and Features
1.8-mile long beach
Restrooms, showers
Hermosa Beach Pier
Many volleyball courts
Bike Path
The Strand boardwalk
Lifeguards
Fishing, bait shop
Accessibility
Parking, restrooms
Bike Trail
The Strand boardwalk
Beach wheelchairs available at public parking lot at 1101 Hermosa Avenue (shown as Lot A on our map) - (310) 372-2162 or (310) 305-9552
Hazards
Caution: Check with rangers or lifeguards that conditions are safe for your planned activities.
Hermosa Beach Regulations (partial list)
No pets allowed on the beach, including horses
No alcohol allowed on beach.
Ball tossing and kicking sports limited to designated areas, e.g. volleyball courts
No swimming or surfing, etc., within 100 feet of the pier
No fires on beach.
No motorized vehicle of any kind allowed on The Strand
No loitering between midnight and 6:00 AM
In-line skating is permitted on The Strand and on the bike path between 24th Street and the northern city limits.
No camping on the beach.
Tents may only have two sides and must be open to view
Hermosa Beach webcam:
Hermosa Beach Webcam
LA Beaches Water Quality:
County of Los Angeles Public Health
Items of
Local Interest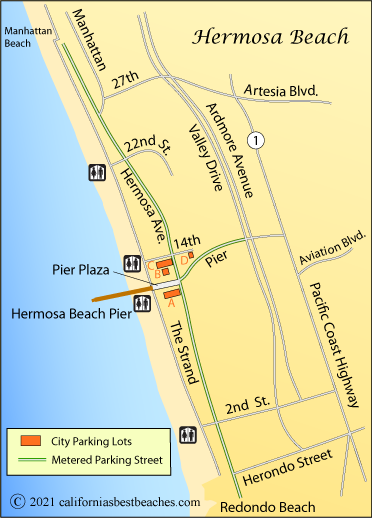 The Strand Walkway
The Strand is a broad walkway, extending the full length of Hermosa Beach. To the north it continues along Manhattan Beach. On summer weekends it can become congested. A number of regulations have been implemented by the City of Hermosa Beach to avoid mishaps on the Pier Plaza and The Strand. For a full list of the regulations see City of Hermosa Beach and Strand Regulations.
The Strand and Pier Plaza Regulations (partial list)
Not allowed on The Strand and Pier Plaza: wagons, motorized vehicle of any kind, or any other method of riding or locomotion on wheels, except as listed below.
Allowed on the Strand and Pier Plaza:

Roller skating
Skateboards
Recreation bicycles (pedal powered and not wider than 36")
wheelchairs and EPAMDs (used by those with a CA disability parking placard)
Government vehicles for official duties

Wheeled vehicles always yield to pedestrians.
No more than two wheeled vehicles operating side by side.
Some areas may be designated Walk Zones where cyclists and skateboards must walk.
The Marvin Braude Bike Trail
The Marvin Braude Bike Trail passes through Hermosa Beach, roughly parallel to The Strand. The full Bike Trail extends 22 miles between Will Rogers State Beach in the north and Torrance County Beach. Cyclists enjoy exploring their way from beach to beach along the bike trail's course, stopping here and there to sample the fares at the various beaches.
Distances on the Bike Trail to
Nearby Beaches
Northbound
Manhattan Beach - 1.7 miles
Dockweiler Beach - 5.2 miles
Venice Beach - 11.6 miles
Santa Monica Pier - 14.3 miles
Will Rogers Beach - 18.2 miles
Southbound
Redondo Beach - 2.2 miles
Torrance Beach - 4.1 miles
Lifeguard Headquarters
The Los Angeles Southern Section Lifeguard Headquarters is located at the foot of Hermosa Beach Pier. They are responsible for lifeguard services from San Pedro to Marina del Rey. The Headquarters is staffed 24 hours a day. Among their facilities are a rescue boat, communications room, medical treatment room, and observation deck.
LA Lifeguard Division
Public Transportation to Hermosa Beach
Beach Cities Transit (BCT) connects Redondo Beach, Hermosa Beach, Manhattan Beach, and El Segundo. The fare is $1.
The BCT 109 Line runs from 6:00 AM to 10:00 PM between Redondo Beach Riviera Village and LAX City Bus Center. Stops along the way include Hermosa Beach Pier Avenue, Downtown Manhattan Beach, Manhattan Village Mall, Douglas Green Line Station, downtown El Segundo, and Aviation Green Line Station.
Hermosa Beach
Hermosa Beach extends nearly 2 miles between King Harbor and Redondo Beach on the south and Manhattan Beach to the north. Like its northern neighbor, Hermosa Beach is best known for surfing and volleyball. The wide swath of sand is popular with sun bathers, families with children, and those who like to play in the waves. The Strand, a wide boardwalk, borders the beach, providing a pleasant way for people to stroll along the shore and mingle with friends.
Hermosa Beach Pier
The 1328-foot long Hermosa Beach Pier was built in the early 20th century. Its concrete structure and asphalt surface have survived 100 years of storms. There are no buildings on the pier. The lifeguard headquarters, the Surfers' Walks of Fame monument, and restrooms are situated on shore at the foot of the pier.
Parking at Hermosa Beach
Parking near Hermosa Beach is available at a number of city lots and along some streets. Most parking is metered. Our map shows the parking lots closest to beach. For a complete map of Hermosa Beach parking, see Hermosa Beach Public Parking.
Hermosa Beach Parking
Parking Lot
Hrs. per Stay
# of Spaces
Hourly Rate
Monthly Passes*
*Monthly Passes: passes good any time (up to 72 hours maximum at one location) - $62
For passes good only from 5:00 AM to 7:00 PM - $31
Lot A Hermosa & 11th
24 hrs.
143
$1.25 - $1.50
$31 - $62
Lot B 59 13th Ct.
3 hours max.
36
$1.25 per hour
NA
Lot C Parking Garage
24 hrs.
300
$1.25 - $1.50
$31 - $62
Lot D Hermosa Ave.
2, 3 & 24 hr. parking
1100
$1.25 per hour
Lot E Upper Pier Ave.
2 hr.
68
free
NA
Pay by Space parking meters are located at Lots A and C. These parking meters accept coins, credit or debit card. Cash Keys (similar to a pre-paid credit card) can be used at all Hermosa Beach parking meters. Daily Parking Permits can be purchased for $6 and allow visitors to park at any yellow-poled meter or in 1-hour zones in the residential areas without regard to the one hour limit.
Cash Keys and Daily Parking Permits can be purchased at City Hall, 1315 Valley Drive, Room 101, Monday through Thursday 7 AM to 6 PM. Daily Parking Permits may also be purchased from the Police Department any time for cash.
Free Parking
(Farther from Beach)
Civic Center Front & Adjacent Lot, Pier Ave. and Valley Dr. - Friday, Saturday, Sunday only
East side Ardmore Ave south of Pier Ave., except Wednesday 10:00 AM - 2:00 PM.
City Yard, 6th St., west of Valley Dr. - Saturday, Sunday, holidays only.
South Park, west of Valley Dr. & north of 2nd St., 12 hrs max between 6:00 AM and 2:00 AM
West side of Valley Dr., north of 2nd, except Wednesday 8:00 AM - 12:00 PM.
Kiwanis Club , West of Valley Dr., south of Gould Ave., 6 hrs. max.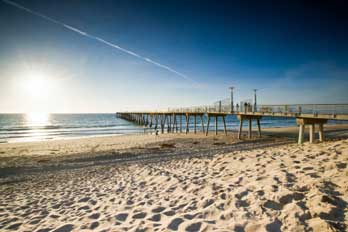 Hermosa Beach Area Restaurants
North Beach
Amigos Tacos Hermosa Beach, 3216 Manhattan Ave.
North End Bar & Grill, 2626 Hermosa Avenue (310)546-5401
El Gringo, 2620 Hermosa Avenue
Martha's 22nd Street Grill, 25 22nd Street
Bottle Inn, 26 22nd Street
Chacker's Perry's Pizza, 17 20th Street
Central Beach
South Beach
Pacific Rim Cafe, 113 Hermosa Avenue
The Spot, 110 2nd Avenue, health food restaurant
Mickeys Deli, 101 Hermosa Avenue
Markets
Beach Market, 1325 Hermosa Avenue
Ashley's Deli & Market, 828 Hermosa Avenue
Ralphs, 1100 E. Pacific Coast Highway
Boccato's Groceries, 3127 Manhattan Avenue
Ocean Safety
California State Parks and Recreation cautions that "large surf, cold water temperatures, backwash, sudden drop-offs, pounding shorebreak, and dangerous rip currents can turn what seem like safe activities such as playing near the surf line, wading, or climbing on rock outcroppings, deadly." Learn more about ocean safety at CA State Parks: Ocean Safety