Heisler Park Shoreline Paths
Beautifully landscaped paths meander through Heisler Park overlooking the shore north of the main beach. Works of art, benches, overlooks, and small grassy retreats are found around nearly every bend. It is a magnificent place to walk, to view the rugged coast and beaches, and to encounter artists at work. Perhaps no other community along the California coast can match the splendor of Laguna Beach's shoreline paths.
Parking at Laguna Beach
Metered parking is found along streets around Laguna Beach at $1 to $2 per hour, but many areas have maximum time limits of only several hours. Ten hour meters are found in the 100-200 block of Cliff Drive between Broadway and Highway 1. Similar meters are found on part of Lower Cliff Drive.
Parking Lots
Free parking is available at the Forest/Laguna Lot in designated areas from September to June. It is $10 a day in the summer, but the lot is a fair distance from the beach.
The Act V Parking Lot out Laguna Canyon Road charges $7 a day in the summer. Cash or pay attendant. Local buses, including a free summer trolley, connect with downtown and the beaches.
The Glenneyre Structure is close to Main Beach, but has a 3-hour limit. Cash or credit cards at $2 per hour. Most other parking lots around Laguna Beach have the same rates and 3-hour limit.
Limited parking is available in street-side parking lots around Heisler Park. As mentioned above, ten-hour meters there allow plenty of time for most beach visitors.
Public Transportation
Year-round buses operate from 6:30 AM to 6:30 PM on weekdays and beginning at 9:20 AM on Saturdays. There is no Sunday service. The Canyon Route connects the Act V parking out Laguna Canyon Road with downtown. Other routes run along the coast.
A Free Trolley runs daily every 20 minutes from June 28 to September 1 from 9:30 AM to 11:30 PM. Routes extend north and south along the coast and inland to the Act V parking lot.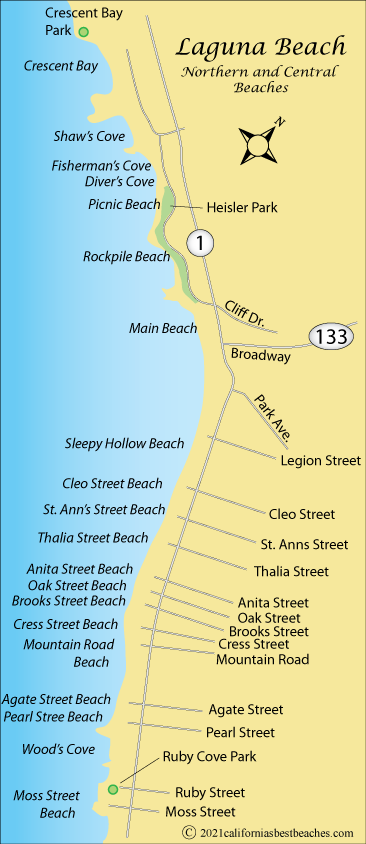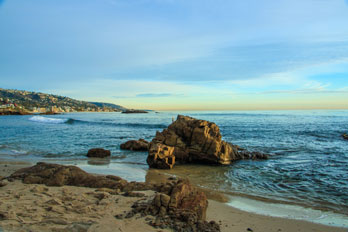 Finding Food Near the Beaches
Husky Boy Burgers - 802 N. Coast Highway, near Crescent Bay and Picnic Beach
Gina's Pizza - 610 N. Coast Highway #106, near Heisler Park and Picnic Beach
Johnny Rockets - 188 S. Coast Highway, near Main Beach
Starbucks - 184 S. Coast Highway and 180 N. Coast Highway., near Main Beach
Oceanview Bar and Grill - 425 S. Coast Highway, near Main Beach
The Cliff - 577 S. Coast Highway, near Sleepy Hollow Beach
Taco Loco - 640 S. Coast Highway, near Sleepy Hollow Beach and Cleo Street Beach
Stand Natural Food Restaurant - 238 Thalia St., near Thalia Street Beach
Maro Wood Grill - 1915 S. Coast Highway, near Agate and Pearl Street beaches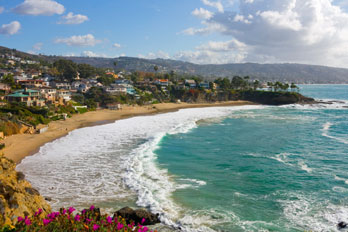 Crescent Bay
Laguna Beach's Best Beaches
Listed from North to South
Crescent Bay Beach
Beautiful Crescent Bay Beach's quarter mile of sand is a popular gathering place from swimmers, skim-boarders and sun-bathers. A good place for diving. Restrooms and an outdoor shower. Crescent Bay Park overlooks the beach and the rocky points that enclose it.
Shaw's Cove Beach
Shaw's Cove Beach is a favorite of divers and tide poolers. Skim boarding is not allowed here. Anglers find this a good place to cast their lines. Access via a path at the foot of Fairview Street. There are no facilities.
Fisherman's Cove or Boat Canyon Beach
Another popular spot for divers to enter the water. Many catamarans are usually hauled out on the beach here. Entry into the water is rocky.
Diver's Cove Beach
As its name suggests, Diver's Cove draws its share of scuba divers. The small pocket beach is also a great place to avoid some of the crowds on the more popular beaches and spread your blanket on the sand. Families find it a good place for children to wade. It adjoins Picnic Beach to the south. The closes facilities are up at Heisler Park.
Picnic Beach
More than 200 yards of sand situated below Heisler Park make Picnic Beach a popular destination for many. Divers and snorkelers find plenty of interest just offshore. Tide poolers enjoy studying the marine life. Families like the convenience of the facilities in the park close at hand. Skimboarding is not allowed here.
Rockpile Beach
Rockpile Beach lives up to its name. Surfers like the waves here despite the danger of the rocks. Most sun-bathers stick to Picnic Beach to the north. Tide pools are worth investigating during the lower tides. Swimming and bodyboarding are not permitted here. Access is via stairs from Heisler Park.
Main Beach south to Pearl Street Beach
Main Beach, in the heart of town, is a popular gather place. The boardwalk along the edge of the sand makes a great place for a stroll. Basketball half-courts, volleyball courts, and a playground attract many visitors. Restrooms with outdoor showers are located at convenient places. Surfing is not permitted on the Main Beach during summer months.
South of the main beach are the smaller beach areas, usually designated by their street access names. None of them have restroom facilities.
Sleepy Hollow Beach - Sandy bottom, good for swimming, body boarding at the southern end.
Cleo Street Beach - High tide covers this narrow beach. There are no facilities. Two hundred yards from shore is the sunken wreckage of an old barge.
St. Ann's Beach - Mostly a rocky reef area making it popular with surfers. Dangerous rip currents are a hazard.
Thalia Street Beach - Attracts a lot of surfers and skim boarders. Swimming and body boarding not allowed.
Anita Street Beach - Swimming allowed, no surfing
Oak Street Beach - No surfing, rocky bottom. A small grassy park is found here with a picnic table and viewpoint overlooking the beach.
Brooks Street Beach - Rocky bottom with some exposed rocks. Experienced surfers enjoy the great waves here.
Cress Street Beach - Rocky, popular for snorkeling and diving.
Mountain Road Beach - Nice sandy beach, used by surfers, rip currents and submerged rocks are hazards
Agate Street Beach - No surfing at Agate Street Beach from noon to 5 PM during the summer months (June 15 to September 15).
Pearl Street Beach - Most popular for its blow hole, its interesting rock formations, and its pristine patch of sand. Surfing is not allowed here, nor is climbing on Arch Rock.
Woods Cove Beach
Many families like coming to the welcoming sand at Woods Cove Beach, except at high tides when the sand is inundated. The secluded beach is bounded on either ends by rocks. Tide pools are crowded with interesting sea life. Divers often set out from the beach. There are no restrooms.
Moss Street Beach
The beach at Moss Point is a small pocket of sand south of Wood's Cove. Divers use it as a launching site to explore the reefs. Surf can build up to dangerous levels, however. Rip currents are a hazard. During high tides the beach is covered. There are no restrooms at the beach.
South Laguna Beaches
For more detailed information about beaches in South Laguna, see our page South Laguna Beaches
Victoria Beach
Victoria Beach is considered by many to be the most attractive of all the beaches along the Laguna Beach coast. Access is at the foot of Sunset Terrace or Dumond Drive.
Treasure Island Park
A broad stretch of inviting beach, shore-breaking surf, and a sandy bottom make this a popular spot in the summer. Skim boarding is limited to the beach's southern end.
Aliso Beach Park
Aliso Beach Park is a county park popular for surfing and body surfing. Facilities include a parking lot, restrooms, a playground, a pier, snack bar, and fire rings. Aliso Creek is known to have poor water quality, raising questions about the safety of the nearby ocean. A steep beach makes it a hazardous spot for swimming. Even so, it is the site of the Skimboarding World Championships. Hours are 6 AM to 10 PM. Parking is $1 per hour.
West Street Beach
Popular with the gay and lesbian community, West Street Beach attracts a wide range of visitors to its clean sand and great waves. Body surfers like the spot. Access is via stairs at the foot of West Street.
Table Rock Beach
About 150 steps at Eagle Rock Way lead down to this secluded beach. Rock cliffs surround a small patch of sand. Tide pools attract attention during low tides. At other times huge waves crash onto the beach. At the southern end of the beach a flat rock (Table Rock) extends over the water. Climbing on the rocks is not permitted. There are no facilities at the beach.
Thousand Steps Beach
Guarded on either end by cliffs, Thousand Steps Beach is a nice pocket of sand at the southern end of Laguna Beach. Ferocious waves crash against the beach, making it a better place to sun bathing than water sports. Be prepared to descend about 230 steps near 9th Street. Facilities include restrooms, shower, and sink.