Nearby Activities and Events
Surf Camps with Club Ed
Club Ed Surf Camps are designed for surfers ages 12 and older of all skill levels. Week long camps are held at Manresa Beach throughout June and July.
Camp at Manresa State Beach, receive daily surf lessons, enjoy other activities such as beach volleyball, and trips to local attractions such as the Santa Cruz Beach Boardwalk and Santa Cruz Surf Museum.
Surf Camps with Club Ed
Annual Sandman Triathlon, Duathlon, & Kids' Fun Run
Triathlon features a .75-mile swim around the cement ship at Seacliff Beach, 13-mile bike race around Aptos, Seascape, and Rio Del Mar, and a 4-mile beach run. Duathlon includes bike and run. One mile Fun Run for youths under 18. Usually held in late July.
Sandman Triathlon
The Forest of Nisene Marks State Park
Over 30 miles of trails through redwood forests, along shaded creeks, and up coastal mountains. Picnic areas, back country trail camping. Located 4 miles north of Aptos on Aptos Creek Road.
The Forest of Nisene Marks State Park
Forest of Nisene Marks Marathon, Half Marathon, & 5K
Race on roads and trails in the redwood forest of Nisene Marks State Park, only a few miles from Seacliff Beach. Run in the morning, relax on the beach the rest of the day. Usually held first Saturday in June.
Nisene Marks Marathon
Identify
Shore Birds
Manresa Beach Junior Lifeguards
Every summer the State of California Department of Parks and Recreation offers its Junior Lifeguards program at Manresa State Beach. Junior Lifeguards' teaches children how to deal with various water safety situations. The program consists of day camps (usually lasting three to five weeks) that provide instruction in first aid, CPR, ocean safety, rescue techniques, surfing and bodyboarding. The Santa Cruz area programs are held Monday through Friday from 10:00 AM to 3:00 PM.
The Santa Cruz State Junior Lifeguard Program is offered at Manresa, Rio Del Mar, and Twin Lakes States beaches for children ages 6-15. (6-8 year-old children's program will be only at Rio Del Mar Beach.) Children new to the programs must attend the April or May swim test tryouts at Cabrillo College.
Junior Lifeguards
(831) 476-4992
Manresa State Beach 2017 Junior Lifeguard Schedule (ages 9-16)
Online Registration; Opens March 31, 2017, at 6:00 AM
Session I - June 12 - July 7, 2017
Session II - July 17 - Aug 11, 2017
Cost: $400 per session
Birding
A variety of birds are seen along the shore and up in the campground, including Allenís hummingbirds, finches, white-crowned sparrows, rufous-sided towhees, whimberels, willets, western and Heermannís gulls, surf scoters.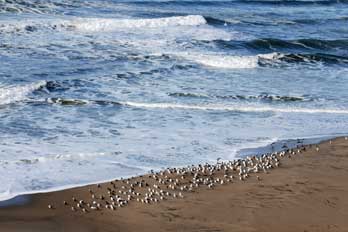 Surf Fishing
Anglers at Maresa State Beach often land starry flounder, California halibut, barred surf perch, striped bass and surf smelt.
Surfing at Manresa Beach
Manresa Beach, with its exposed shoreline, receives consistent surf, making it good for surfing year round. Surfers report that the best winds blow in from the northeast with the best groundswells arriving from the west. With such a long expanse of beach surfers are able to spread out and find their own spot.
The break provides both right and left hand waves. The better waves form when the swell is less than four feet. Some of the best surfing is around mid tide when the tide is coming in or around higher tides.
Surfers and swimmers should be wary of dangerous rip currents in the area.

Pacific Waverider's Santa Cruz Area Surf Report
Caution: Check with rangers or lifeguards that conditions are safe for your planned activities.
Ssnta Cruz Surfboard Rentals
1368 San Andreas Rd. Watsonville, CA,
Equipment is rented on a 24-hour basis. Renters must be 18 or older with a credit card and picture ID.
(831) 722-4060 Santa CRuz Surfboard Rentals
Surfboards: Soft-top surfboards to help with flotation and stability, 6 to 9 feet.
Wetsuits: Sizes to fit men, women, and children.
Bodyboards: Great fun to ride and easy to use.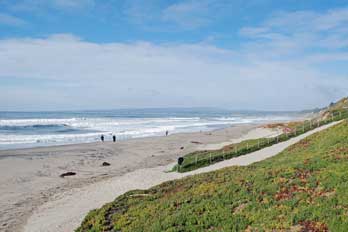 Junior Ranger Program, Ages 7-12
Play games, hike trails, create your own animal, discover tracks, observe wildlife, all while making friends your own age in some of the best places in California!
Junior Ranger Program for children ages 7 - 12 covers topics such as geology, ecology, history, safety, plants, and wildlife. The Program can take place over several days, or you can start at one park, and then at another time go to a different park. Children should plan to spend about an hour at each activity.
The Junior Ranger Program is offered free of charge to visitors who have already paid park entrance or camping fees.
California State Parks Junior Ranger Program
Ocean Safety
California State Parks and Recreation cautions that "large surf, cold water temperatures, backwash, sudden drop-offs, pounding shorebreak, and dangerous rip currents can turn what seem like safe activities such as playing near the surf line, wading, or climbing on rock outcroppings, deadly." Learn more about ocean safety at CA State Parks: Ocean Safety