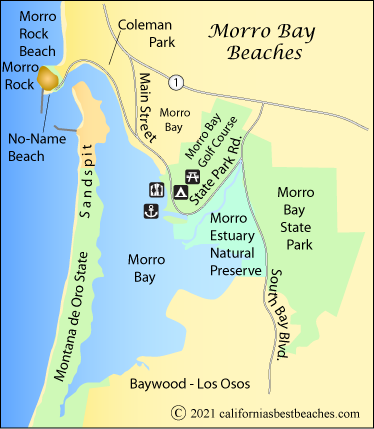 Morro Bay Beaches
Morro Rock Beach
Morro Rock Beach (or Morro Bay Beach) is immediately north of Morro Rock, within the city limits of Morro Bay. The beach is popular for its dramatic setting with Morro Rock looming overhead. During the summer two lifeguard towers are staffed from 10:00 AM to 6:00 PM.
Swimming, surfing, sandcastle building, sun bathing, and picnicking are all favorite activities there. Fires are not allowed on the beach and dogs must be on leash. The beach is open from dawn to dusk.
Coleman Park Beach
Coleman Park extends along the waterfront at the northern end of the Embarcadero, just east of Morro Rock. The park includes a picnic area, BBQ pits, restrooms, and a children's play area. Visitors enjoy watching ocean wildlife and birds there.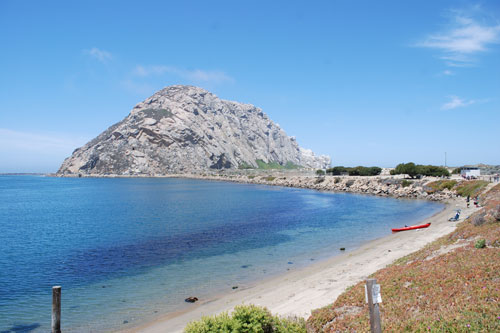 Sandspit
Sandspit extends nearly 4 miles along the coast from the mouth of Morro Bay to Monta?a de Oro State Park. This dune barrier separates Morro Bay from the Pacific Ocean. Some of the dunes rise to 100 feet. The ocean side of Sandspit is too dangerous for swimming, with sudden drop-offs and dangerous rip-currents.
Sandspit can be accessed from the south via Los Osos Valley Road and Sand Spit Road. Some visitors paddle across the bay by kayak or other boats. the area is protected as part of the Morro Dunes Natural Preserve. Parts of the Sandspit are nesting areas for endangered Snowy Plovers.
No-Name Beach
This little patch of sand is tucked in at the foot of Morro Rock between the breakwater and the parking lot at the end of Coleman Drive.
Spooner's Cove in Monta?a de Oro State Park
Spooner's Cove, in Monta?a de Oro State Park, has a secluded pebble beach surrounded by rugged rock outcroppings and high bluffs. Look for the hole-in-the-rock and caves. Watch out for the incoming tide. The beach has small bits of sea glass and colorful rocks. Surfers like the break here, including one spot - South Point - known for its huge waves. Kayakers often launch from the cove.
Access is via Pecho Valley Road off Los Osos Valley Road at the south end of Morro Bay. The old Spooner ranch house just above the cove serves as the park headquarters. A visitors center is open daily during the summer and on weekends the rest of the year. Picnic tables and firepits are found at the cove along with restrooms. Parking is free by the park headquarters.
Morro Bay Beaches
Massive 581-foot tall Morro Rock stands at the entrance to Morro Bay. Across the bay from the famous rock, Morro Bay State Park covers 2,770 acres and includes a museum of natural history, Morro Rock Natural Preserve, the Heron Rookery Natural Preserve, and the Morro Bay Star Park Golf Course.
A number of beaches are found around Morro Bay. Although they are not part of the state park, they are easily accessible for anyone staying at the park.
Morro Beach or City Beach - located immediately north of Morro Rock
Sandspit - the point of land south of Morro Rock. The northern-most mile of Sandspit is within the Morro Bay city limits. the remainder is part of Monta?a de Oro State Park.
Mother's Beach or Coleman Beach - next to Coleman Park at the north end of the Embarcadero.
No-name Beach - on the south side of Morro Rock, next to the paved parking lot.
Spooner's Cove is several miles south of Morro Bay in Monta?a de Oro State Park.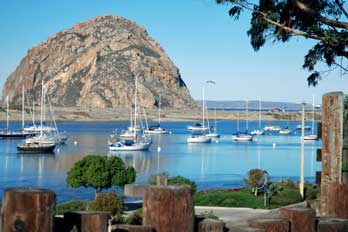 Beaches Up the Coast
Three more beaches north of Morro Bay are covered here on these pages of California's Best Beaches.
Atascadero Beach - nearly 2 miles of sandy beach north of Morro Rock and Morro Beach.
Morro Strand State Beach - 4 miles north of Morro Rock.
Cayucos State Beach - 6 miles north of Morro Rock in the town of Cayucos.
Atascadero Beach
Between Morro Rock and Morro Strand Beach, Atascadero Beach stretches along the shore for nearly 2 miles near Cloisters Park. The beach was formerly a separate state beach but has been absorbed by Morro Strand State Beach. At Cloisters Park are restrooms, a children's play area, picnic tables, and BBQs. A nearby wetland is home to a variety of birds and small fish. Paths lead north and south along the beach. At the south end is an observation deck.
Morro Strand State Beach
Morro Strand State Beach now includes Atascadero Beach, connecting it north with Cayucos Beach. Access is easy off Highway 1 at Beachcomber Drive. Park along one of the streets or take Toro Lane north to a small parking lot. A campground is also located just south of Beachcomber Drive.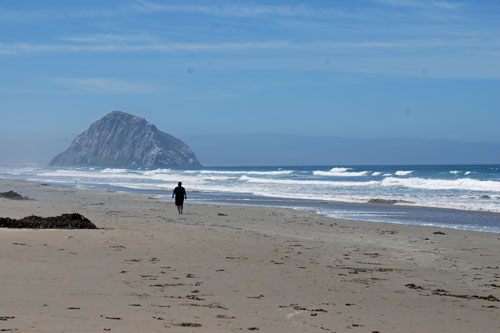 Two more access points along Highway 1 are at Toro Creek Road and at Studio Drive. Just north of the Studio Drive parking area in Cayucos is another access via Cass Avenue and then 24th Street. There you will find restrooms and picnic tables.
Morro Strand Beach is a favorite for walking and jogging. Other attractions include fishing, surfing, wind and kite surfing, kite flying, sunbathing, and bird watching. Dogs are not allowed on the beach.
Cayucos State Beach
In the charming coastal town of Cayucos is the popular Cayucos State Beach. The beach area includes a fishing pier and a nice sandy beach. Visitors enjoy swimming and surfing, tide pooling, and picnicking. Lifeguards are on duty during peak summer months.
Facilities include a parking lot, restrooms, and picnic area. Access by Cayucos Drive off Highway 1.
Morro Bay Birds
Morro Bay is an important stop for birds migrating along the Pacific Flyway. The bay provides seasonal roosting and feeding grounds for more than 100 species of migratory birds. Along the point north of the museum are groves of eucalyptus and cypress trees which provide habitat for a variety of birds, including great blue herons, great egrets, and double-crested cormorants. Out on Morro Rock you may spot a nesting pair of peregrine falcons.
Ocean Safety
California State Parks and Recreation cautions that "large surf, cold water temperatures, backwash, sudden drop-offs, pounding shorebreak, and dangerous rip currents can turn what seem like safe activities such as playing near the surf line, wading, or climbing on rock outcroppings, deadly." Learn more about ocean safety at CA State Parks: Ocean Safety