Point Mugu
State Park
Point Mugu State Park is 15 miles south of Oxnard. The 15,000-acre park has a variety of recreation areas, including several beaches - Point Mugu Beach, Thornhill Broome Beach, and Sycamore Cove Beach. South of the park are two other popular beaches - County Line Beach (AKA Yerba Buena Beach) and Staircase Beach.
Point Mugu Beach
Point Mugu Beach, a one-third-mile long triangle of sand, is located between Point Mugu Rock and the Naval property. Parking is found along the side of the highway next to the beach. Lifeguards are on duty during the summer.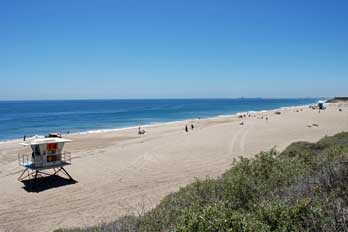 Thornhill Broome Beach
Thornhill Broome Beach, formerly known as La Jolla Beach, is one of the few places in California that allows camping right on the beach. The sandy beach makes a nice place to enjoy the sun or stroll nearly 1½ miles along the surf line. Tide pools offer fascinating views of marine life. Lifeguards are on duty during the summer, however, rip-currents are still a danger and swimmers should be wary. Restrooms are portable toilets. There are no day-use facilities.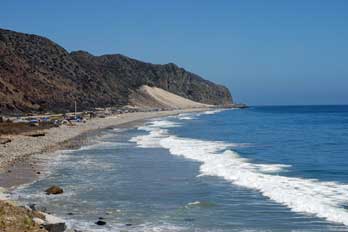 Sycamore Cove Beach
Sycamore Cove, at the mouth of Sycamore Canyon, serves as the headquarters for Mugu State Park. Facilities include campgrounds and a day use area with picnic tables, BBQs, restrooms, and showers. Lifeguards are on duty during the summer. The sandy beach is one-third of a mile long.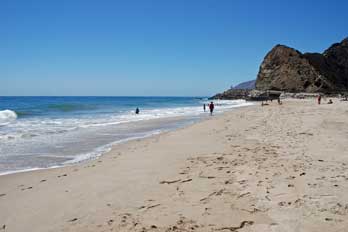 Point Mugu Wildlife
Beach visitors who cast their eyes toward the ocean are often rewarded with the spectacle of dolphins arcing through the water, harbor seals, whales, and sea lions. Common birds along the shore are cormorants, brown pelicans, least terns, and gulls.
Inland a variety of animals live in the woods. Among them are skunks, deer, foxes, and even mountain lions. Birds around Sycamore Canyon include woodpeckers, warblers, thrashers, Peregrine falcons, and towhees.
Wildfire
The Springs Fire in May 2013 scorched about 12,000 acres in the park, severely damaging habitat. For a short time many park facilities were closed. Most re-opened by Memorial Day 2013, but park officials continue to monitor habitat recovery. Some trails may be closed to aid in the recovery.
Beach Supplies
Stock up on supplies in Oxnard or Malibu before heading to Point Mugu State Park. Both towns are about 10 miles from the park. Starbucks is found in Trancas Market Shopping Center just north of Zuma Beach in Malibu.
Ocean Safety
California State Parks and Recreation cautions that "large surf, cold water temperatures, backwash, sudden drop-offs, pounding shorebreak, and dangerous rip currents can turn what seem like safe activities such as playing near the surf line, wading, or climbing on rock outcroppings, deadly." Learn more about ocean safety at CA State Parks: Ocean Safety