New Brighton Beach Activities
Visitor Center
New Brighton Beach's Pacific Migrations Visitor Center is located near the campgrounds on the bluff above the beach. Displays there tell the story of Pacific wildlife and human migrations. It also includes a park store.
Open seasonally, closed in winter.
(831) 464-5620 or (831) 685-6444
Friends of Santa Cruz State Parks
Caution: Check with rangers or lifeguards that conditions are safe for your planned activities.
New Brighton to Seacliff Beach Trail
The 3-mile long round trip trail is actually a stroll along the beach in a southeasterly direction to Seacliff State Beach. Along the bluffs between New Brighton and Seacliff are fossils from the Pliocene era when New Brighton and Seacliff were under 60 feet of water. Just a mere two and half to five million years ago. The fossils are protected by law and should not be disturbed. At Seacliff Beach you will find restrooms, picnic areas, and a snack shop.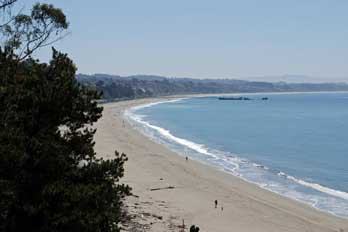 Interpretive Programs
Docent-led fossil, history and beach walks are offered in the summer. Also there are children's arts and crafts activities that highlight the New Brighton story. School field trip activities are provided free of charge year round (831-685-6444). Sing-alongs and magic shows are sometimes held in the evenings at the campfire circle.
Keep up with events at New Brighton Beach with Friends of Santa Cruz State Parks.
Junior Ranger Program, Ages 7-12
Play games, hike trails, create your own animal, discover tracks, observe wildlife, all while making friends your own age in some of the best places in California!
Junior Ranger Program for children ages 7 - 12 covers topics such as geology, ecology, history, safety, plants, and wildlife. The Program can take place over several days, or you can start at one park, and then at another time go to a different park. Children should plan to spend about an hour at each activity.
The Junior Ranger Program is offered free of charge to visitors who have already paid park entrance or camping fees.
California State Parks Junior Ranger Program