Nearby Beaches
Will Rogers State Beach
Location
17000 Pacific Coast Highway
at Temescal Canyon Road
3 miles north of the Santa Monica Pier
(310) 305-9503
Admission
Parking:
winter $4 - $9
summer $4 - $12
Hours: sunrise to sunset
8:00 AM to sunset
Operated by the Los Angeles County Department of Beaches & Harbors
LA County Beaches Tourist Information, contact Marina del Rey Visitor Center:
(310) 305-9545
Main Attractions
Swimming, surfing
Diving
1.8-mile long beach
i>
Facilities and Features
Parking, restrooms, showers
Volleyball courts
Gymnastic equipment, playground
Malibu Lagoon Museum
Marvin Bruade Bike trail
Snack shop
Lifeguards on duty during daylight hours
Accessibility
Parking, restrooms
Beach wheelchairs in locker by restroom in parking lot #1
Bike Trail
Hazards Include
Caution: Check with rangers or lifeguards that conditions are safe for your planned activities.
LA County Beach Regulations (partial list)
No pets allowed on the beach, including horses
No alcohol allowed on beach.
No fires on beach.
No camping, fireworks, glass containers
No loitering between midnight and 6:00 AM
Topanga County Beach webcam:
Topanga Webcam
LA Beaches Water Quality:
County of Los Angeles Public Health
Will Rogers
Will Rogers
State Beach
Will Rogers State Beach connects on its southeast end with Santa Monica State Beach, forming a 6 mile swath of sand along Santa Monica Bay. Will Rogers Beach offers swimming, surfing, sunbathing, volleyball, and all the other usual beach activities without the same crowds you often find on Santa Monica Beach. Facilities at Will Rogers Beach include restrooms with showers, lifeguards, restaurants and a snack shop, and plenty of volleyball courts.
Parking at Will Rogers State Beach
The main parking lots at Will Rogers Beach are easy to access off the Pacific Coast Highway at Temescal Canyon Road. Fees are $4 - $12 in the summer and $4 to $9 during the winter.
Parking Lot #1 at the southeast end of the beach is accessed separately, directly off the Pacific Coast Highway at Chautauqua Boulevard. It has 135 parking spaces. Two beach wheelchairs are kept here.
Parking Lot #4 toward the northwest end of the beach is operated by Gladstones Restaurant. It has 212 parking spaces.
Parking Lot #4 at the far northwest end of the beach is operated by is accessed off Pacific Coast Highway. It has 212 parking spaces.
Into the Surf
Will Rogers State Beach has acclaimed as one of the best beaches for swimming along the southern California Coast, mainly because of the good water quality. However, check the water quality link on the right for up-to-date information on water quality along Los Angeles County beaches. Lifeguards are on duty during daylight hours in stations along the length of the beach. Although waves are only moderate in size, beginning and intermediate surfers enjoy the point break.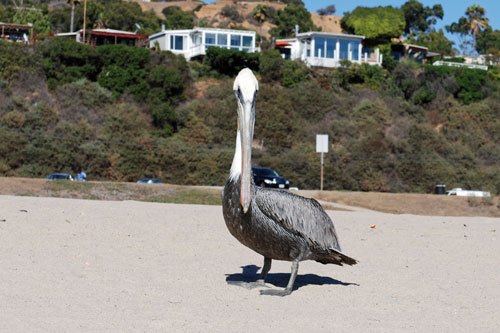 Kitesurfers and windsurfers enjoy the stiff afternoon winds. Divers and kayakers launch from the beach, while anglers try their luck casting into the surf.
Nearby Restaurants
Jack in the Box, Sunset Blvd. and Pacific Coast Highway
Fiesta Feast, 17336 W. Sunset Blvd.
Subway, 17334 W. Sunset Blvd.
Gladstone's Restaurant: 17300 Pacific Coast Highway
The Hungry Cat, 100 W. Channel Road
Sam's By the Beach, 108 W. Channel Road
Nearby Groceries
Vons, 17380 W. Sunset Blvd.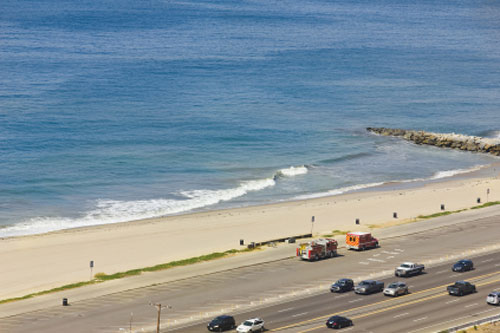 Beaches up the Coast
Topanga County Beach
18700 Pacific Coast Highway
Popular for surfing. Also used for swimming, but a rocky shore makes this somewhat hazardous. Fishing is good from rocks or sand. Facilities include picnic tables, restrooms, and showers. There is a food concession at the beach and lifeguards are on duty during daylight house. The beach is open from 6:00 AM to sunset. Parking is $3 to $10 in summer and $3 to $8 in winter.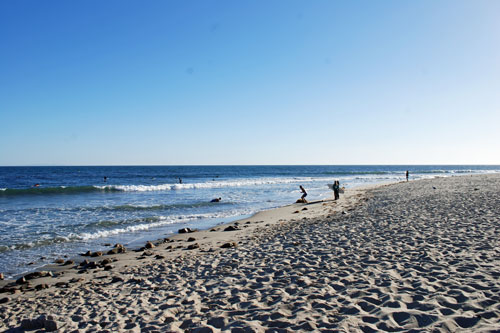 Las Tunas County Beach
19444 Pacific Coast Highway
This small beach is most popular for fishing and diving. The water quality at Las tunas Beach is rated among the best in the county. Swimmers enjoy the water while sun bathers relax on the quiet patch of sand. Lifeguards are on duty during the day. Volleyball nets are set up for public use. A food concession operates here. There is free off-street parking.
Ocean Safety
California State Parks and Recreation cautions that "large surf, cold water temperatures, backwash, sudden drop-offs, pounding shorebreak, and dangerous rip currents can turn what seem like safe activities such as playing near the surf line, wading, or climbing on rock outcroppings, deadly." Learn more about ocean safety at CA State Parks: Ocean Safety