Nearby Beaches
Royal Palms and White Point Beaches
Location
1799 Paseo del Mar
San Pedro, CA
Los Angeles Department of Beaches and Harbors
(310) 832-1179
Admission
Hours: Sunrise to 6:30 or 8:30 PM
Parking
Fees based on time of day, season, and weekday or weekend. Metered parking is 25 cents for 10 minutes up to a max of 90 minutes. Other parking fees range from $3 for a few hours to $10 for all day on summer weekends.
See La County Beaches and Harbors Parking Rates
Main Attractions
Tide pools
Surfing, swimming
Fishing, diving
Cabrillo Marine Aquarium
Other Facilities and Features
Children's playground
Parking, restrooms, showers
Picnic tables
Waterside Promenade
Lifeguards during daylight hours
Accessibility
Hazards Include
Rip Currents
Slippery rocks
Caution: Check with rangers or lifeguards that conditions are safe for your planned activities.
Regulations
No pets allowed on the beach, including horses.
No alcohol allowed on the beach.
No fires on the beach.
No camping, fireworks, or glass containers
No loitering between midnight and 6:00 AM.
Books of Interest
Royal Palms Beach
Most visitors to Royal Palms Beach appreciate its feeling of isolation from the sprawl of Los Angeles. After dropping down to beach level, houses, roads, and power lines disappear from view. Before you is a rocky coastline, some small areas of sand, and the ocean. While you could wade and swim here (a lifeguard is on duty during daylight hours), many prefer to explore, clambering over rocks, inspecting tide pools, and hiking along the coast.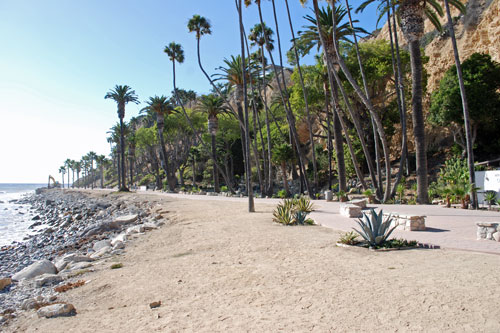 In the summer often an ice cream truck shows up. A promenade runs along the shore to the west of the parking lot. There you will find an events area which can be rented out and picnic tables.
Nearby Restaurants
Pronto's 2420 S. Western Ave - Mexican cuisine
(310) 832-4471
Subway 1436 W. 25th Street - (310) 833-8600
Starbucks 1440 W. 25th Street - (310) 832-8459
Many more restaurants along Western Avenue
Marine Wildlife
White Point Bluff Park is a popular place for whale watching during the annual winter migrations. Other marine mammals visitors are apt to spot offshore are harbor seals, sea lions, and dolphins.
Royal Palms and White Point Beaches
Royal Palms Beach and White Point Beach are more like one single park than two separate county parks. They share the same entrance at White Point Bluff Park. Parking for either beach is below the bluff in long lots that stretch along the rocky shore. Sandy places can be found on both beaches, but more often it is Royal Palms that attracts sun bathers and picnickers while White Point draws more tide pool explorers.
White Point Bluff Park
White Point Bluff Park offers visitors a sweeping view of the ocean and Catalina Island. Benches are located at convenient view points. Plaques around the park provide visitors with some history of the area. Restrooms and picnic tables are available. Visitors warn of the aggressive seagulls here, so guard your food carefully. Nearby is the Mary Star Fromhold Baseball Field. A small playground is enclosed by a fence and gate. It features a few small slides and swings probably best suited for very young children. The area is known for the number of feral cats that live around the park and beach.
Tide Pools
Extensive tide pools spread along the shore at White Point Beach. As is usually the case, they are best explored at low tide. Some of the areas are difficult to access and require care. Wearing sturdy shoes you can get wet is advised. The tide pools are home to sea stars, sea cucumbers, sea urchins, hermit crabs, anemones, and other marine creatures. Unfortunately some people have taken marine life from the tide pools, which is against the law.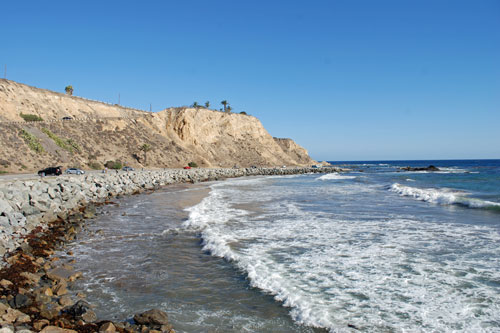 White Point Nature Preserve
Directly across Paseo del Mar from White Point Bluff Park is the White Point Nature Preserve, 102 acres of restored coastal sage scrub habitat. Hiking trails lead through the park. The park is home to the Nature Education Center which serves as a resource for students, families and community groups.
2011 Landslide
On November 20, 2011, a landslide shifted about 420 feet of earth and roadway of Paseo del Mar and a small portion of the White Point Nature Preserve about 50 feet, sending pieces of hillside and road cascading down the the shore. As a result, a portion of Paseo del Mar has been closed. Work is under way to stabilize the area, while road replacement is still being debated.
Preserve Hours: Dawn to dusk
Education Center: 10:00 AM to 4:00 PM on Wednesdays, Saturdays, and Sundays.
(310) 561-0917
White Point Nature Preserve and Education Center


Ocean Safety
California State Parks and Recreation cautions that "large surf, cold water temperatures, backwash, sudden drop-offs, pounding shorebreak, and dangerous rip currents can turn what seem like safe activities such as playing near the surf line, wading, or climbing on rock outcroppings, deadly." Learn more about ocean safety at CA State Parks: Ocean Safety