Ocean Beach
Location
Great Highway, San Francisco, CA
West of Golden Gate Park
Beach Hours
Sunrise to sunset
Entrance fee: None
Main Attractions
Picnicking
Fishing
Sun bathing
Beach combing
Facilities
Restrooms and outdoor showers at Sloat entrance
Restrooms at the Cliff House at the north end
Restrooms at Judah and Taraval streets.
Coastal Trail
Free Parking
Hazards Include
Accessibility
Parking and beach access at stairwells 15 and 16
Reserve an all-terrain wheelchair five days ahead of your visit (415) 561-4958
Promenade, except when excessive sand blows onto it
"generally accessible" restrooms at corner of Sloat and the Great Highway
Coastside Trail
Special Regulations
No fires outside the fire rings
Bring your own firewood - no collecting driftwood
Dogs on leash allowed on beach
No alcohol on the beach
San Francisco Bay Tides
Tides.Info: Tide Predictions for San Francisco, San Francisco Bay, California
Webcams
Books of
Local Interest
Girls Unite
Summer Camps
Ocean Beach Adventure Camp
June 3 - 18, 2021
Open to all youth, all genders, age 5 - 14. Camp runs from 9:00 AM to 4:00 PM. Participants can come for one week, two weeks or all three. Sand sports, games, hikes, srts & crafts, and more.
Girls Unite Soccer Summer Camp
July 26 - August 13, 2021
All skill levels are welcome. Campers will be grouped by age and playing level. Choose a single week, two weeks, or all three - 9:00 AM to 4:00 PM, Monday through Friday. Activities and drills to develop soccer skills in a positive environment. Exact location of camps TBA.
Girls Unite Summer Camps
Ocean Beach
Ocean Beach's 3½ miles of sand are a popular destination for those who want a place to enjoy the wild feel of the Pacific Coast away from the congestion of the city. The beach attracts experienced surfers, beach combers, picnickers, hikers, and sun bathers.
Caution: Frigid water and dangerous currents make Ocean Beach especially hazardous. Wading and swimming are not recommended. Before setting out, always check with lifeguards or rangers that conditions are safe for your planned activitites.
San Francisco is famous for its summer fog, which is why locals usually head to Ocean Beach in September and October when the sun is most likely to shine. During the summer you can almost be guaranteed to have fog at Ocean Beach.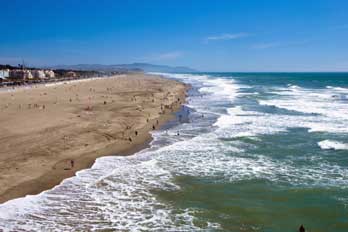 Due to fickle nature of the ocean and the dredging of the Golden Gate, the northern part of Ocean Beach has accumulated an excess of sand, while the southern end is exposed to erosion. In recent years the National Park Service, the Public Utilities commission, and the Department of Public Works joined to move more than 73,000 cubic feet of sand from the north end to the south. Changes in dredging practices should help to alleviate the problem too.
Restrooms
Restrooms are available at the Vistor Center at the Beach House after 11:00 AM, and also at the foot of Judah and Taraval streets, inland from the beach. Another restroom is at Sloat Boulevard and the Great Highway.
Coastal Dunes
As in many places along the coast, the vegetation on the dunes at Ocean Beach has suffered from heavy traffic. At one time most of San Francisco was covered by sand dunes. Today only limited areas of dunes with native vegetation known as dune scrub remain. Dune scrub consists mostly of mock heather and Chamissols lupine. Efforts are underway to protect the ecology of the dunes at Ocean Beach. Visitors are encouraged to avoid stepping on fragile dune plants.
Fires on Ocean Beach
Beach-goers are asked to confine beach fires to the provided fire rings. Bring your own firewood rather than collect driftwood. For complete fire guidelines, see the Park Conservancy's information Ocean Beach Fire Rings.
Snowy Plovers
Endangered Western Snowy Plovers are found at Ocean Beach from July until May. Although they are not nesting at Ocean Beach, they are building up their strength by feeding along the beach and resting in shallow depressions in the sand. These small brown birds are often hard to see.
A Snowy Plover Protection Area has been set up at Ocean Beach at stairwell 21, just south of the Beach Chalet, to Sloat Boulevard, including all tidelands. To help protect the birds, dogs are not allowed off leash in this area from July until May. Activities such as walking or horseback riding should be confined to the areas of wet sand. Kite flying, frisbee tossing, and other ball throwing sports should be close to the water also, away from the areas where the plovers rest.
Other Birds on Ocean Beach
Visitors to Ocean Beach will likely see a variety of shore birds, including Marbled Godwits, Willets, Heerman's Gulls, Caspian Terns, and Sanderlings.
Shipwrecks
From 1850 to 1926 twenty ships ran aground and sank at Ocean Beach. In 1878 the King Philip, a 1,100-ton wooden clipper ship, ran aground at Ocean Beach and broke apart in heavy surf. During very low tides the remains of the hull can be seen sticking out of the sand at the foot of Ortego Street.
Bike-Walk-Jog Trail
Bike-Walk-Jog Trail paralleling the inland side of the Great Highway extends from Sloat Boulevard 2 miles to Lincoln Way. A generous space between the road and the bike path means that riders and walkers don't feel as if they are on a city sidewalk.
Virtual Bay to Breakers for 2021
The virtual Bay to Breakers race will be held on Sunday, May 16 - June 2, 2021. Check their website for details.
Bay to Breakers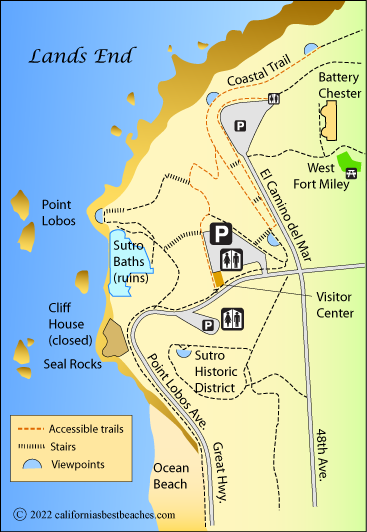 Surfing Ocean Beach
Ocean Beach is known for its huge, powerful and relentless waves. Combined with strong rip currents and bone chilling water, Ocean Beach is a dangerous place for the inexperienced. The beach has been the site of severeal drownings and countless rescues, marking it as one of the most hazardous swimming beaches in the area. Experienced surfers, prepared for the cold water and ready for the challenge of thundering waves, rate Ocean Beach as one of the best surfing spots in the region.
As with any beach, conditions vary. Often, though, the waves are coming in one after another, making it challenging to get beyond them. One of the most popular spots for expert surfers along the beach is the northern end known as Kelly's Cove.
Surfing Competitions
In 2011 Ocean Beach was the site of the two-day Rip Curl Pro surfing competition. Legendary surfer Kelly Slater earned his 11th ASP world championship at the event.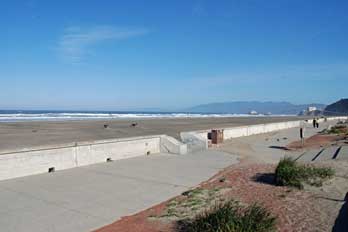 Leap Sandcastle Classic
Every year Leap sponsors a sandcastle building events on Ocean Beach to riase funds for Arts in Education. Leap, a non-profit organization, sponsors programs such as architecture, creative writing, dance, music, theater, and visual arts for Bay Area children. The sandcastle contest is a fundraiser for Leap programs. Events and activities spread over a sandcastle season, leading up to a Classic Build in October.
Leap has 3 ways the public can become involved:
Sandcastle Teams are usualy 3-5 companies that team up with a local elementary school. Teams submit a $500 registration fee and set a fundraising goal of at least $4,250.
Community Builders are goups of up to 6 people. No registration fees are required, but teams are encouraged to set a fundraising goal of at least $500.
Sand Spectators are welcome to show up for events that are open to the public.
Some details for the 2021 season have yet to be announced (April, 2021). Check their website for more information.
Leap - Arts in Education Sancastle Classic
Kitesurfing
Kitesurfing (or kiteboarding) is popular at Ocean Beach. On rough surf days it is a destination only for experienced kitesurfers, but there are times when the waves are mild and intermediates can venture out under the tutelage of more experienced kitesurfers.
An advantage of Ocean Beach is its expansive field of sand where kitesurfers can spread out and prepare their gear. The consistent, on-shore wind can be a problem for beginners, making it difficult to get beyond the surf line.
Nearby Kitesurfing Lessons
Kite 415 - beginner, intermediate and advanced lessons, jet ski assisted. Located in Foster City.
KGB Kiteboarding - certified instruction at all levels. Located in Emeryville.
Wind Over Water - one-to-one instruction, jet ski assisted. Located in Burlingame.
Lands End
Lands End is a rocky point at San Francisco's northwestern corner, just north of Ocean Beach. Lands End is part of the Golden Gate National Recreation Area. A new Lookout Visitor Center provides information about the natural and cultural history of Lands End. The California Coastal Trail leads through the area and other trails offer visitors wonderful views of the coast, the Golden Gate Bridge, Seal Rock, and other attractions. The grass at West Fort Miley batteries makes a good place for a picnic.
Shipwrecks
The remnants of three ships that ran aground near Lands End can be seen from various vantage points. The stern posts and boilers of the Ohioan, which sank in 1937, can be seen at low tide at the bottom of the stairs at the Merrie Way parking lot. From places along the Coastal Trail between the Palace of the Legion of Honor and the vista point you can see remains of the Lyman Stewart, which sank in 1922, and the Frank Buck, which met its fate in 1937.
Sutro Baths
Sutro Baths, once a glamorous indoor swimming pool complex, were first opened to the public in 1896. Besides seven swimming pools, the mostly iron and glass structure enclosed a concert hall, a museum, and an ice skating rink. Sutro Baths burned to the ground in 1966, but their ruins remain as part of Lands End and the Golden Gate National Recreation Area.