Nearby
Events and Activities
Panhe - A Native American Gathering
San Mateo Campground, San Onofre State Beach
March TBA, 2018, 10 AM to 4 PM
Native American singers, dancers, flute circle, good, basketry, artisans, and more.
San Onofre Foundation Events
Casa Romantica Cultural Center and Gardens
415 Avenida Granada
San Clemente, CA
A living demonstration of California history, culture, and ecology.
Year-round programs and concerts
Casa Romantica
Surfing Heritage Foundation
110 Calle Iglesia
San Clemente, CA
Dedicated to preserving, presenting, and promoting surfing's heritage
Museum hours 11 AM to 4 PM, Monday through Saturday
Surfing Heritage Foundation
San Clemente SeaFest
October 7, 2018
San Clemente Pier
Chowder Cook-off, Fisherman's Lobster, Arts & Crafts, Surf contest, entertainment, Coast Guard Search and Rescue Demo.
San Clemente SeaFest
Dana Point Festival of the Whales
March 3-4 and 10-11, 2018
Dana Point, CA
Two weekends of festivities much too numerous to list. A free shuttle carries you to event locations around Dana Point Harbor.
Dana Point Festival of the Whales
San Onofre Beach Surfing
San Onofre has a long history as one of the leading surfing destinations along the California coast. A string of legendary surf spots are spread along San Onofre State Beach from Trestles in the north to Trails in the south. In between are famous breaks such as The Point, Church, Old Man's, and Dog Patch.
Trestles
Trestles is more difficult to reach than other breaks at San-O. Many surfers get dropped off by friends near the beach or make the long trek from inland or the south. With a number of breaks that work best under different conditions, surfers are almost never disappointed at Trestles. It is usually crowded.
Old Man's
Old Man's breaks just to the north of the nuclear power plant. Popular spots within the range of Old Man's carry tags such as The Point and Dog Patch. A broad reef stretches out from the shore here. Variations in the reef's outer edge create the various breaks along this section of the beach. Because of the slope of the sea floor here, waves arrive with less energy than elsewhere along this part of the coast. The waves break softly, making them especially popular with beginning and intermediate surfers.
Trails
Named for the six numbered paths that lead down to the beach from the sandstone bluffs, Trails is another very popular destination for surfers at San Onofre. The waves extend from the nuclear power plant south to the boundary of Camp Pendleton. Life Old Man's, the waves are fairly gentle, arriving with a slow, soft beach break. It is usually best for long boards.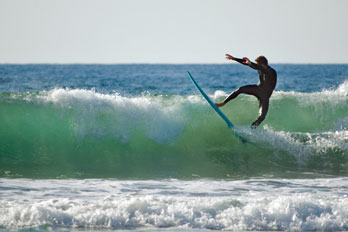 Surfing Competitions at San Onofre - 2017
Western Surfing Association Events
May 12-13, 2018 - West Coast Championships, Church Beach, San Onofre
Annual Surfing Competitions
Fishing at San Onofre
Despite all the jokes about catching two-headed fish next to the nuclear power plant, San Onofre offers some enjoyable surf fishing. Anglers like to fish near the power plant where they regularly land a variety of leopard and sandsharks, stingrays, opaleye, and surf perch. Favorite baits include frozen anchovies and sand crabs. For sharks try live mackerel.
San Onofre State Beach
Hiking Trails
Caution: Check with rangers or lifeguards that conditions are safe for your planned activities.
Bluff's Beach Trail
Drop down to the beach from Trail 1 and enjoy a fascinating hike along the narrow strand of sand to Trail 6, about a 3-mile hike. The journey takes you along the foot of 100-foot tall sandstone bluffs, eroded and sculptured into exotic shapes. Look to the ocean and perhaps spot migrating gray whales, dolphins, and harbor seals.
Panhe Nature Trail
The 1½-mile Panhe Nature Trail connects San Mateo Campground with Trestles Beach. Pick up the trail near the amphitheater where you will find an information kiosk pointing out important points along the trail, such as various plants, wildlife, and information about Native American life.
Other Inland Trails
A number of trails lead out from the San Mateo Campground into state beach property to the north and east. At the entrance station to the campground ask for a guide called San Mateo Trails at San Onofre State Beach, Backcountry Map and Information Guide.
Surfing Lessons and Camps
Summer Soul Surf Camp
Week-long day camps at San Onofre beginning in late June and ending in late August. Program designed for boys and girls ages 9 to 16. Learn ocean safety, physical fitness, and healthy eating - all while your enjoy surfing and beach activities.
Summer Soul Surf Camp
Endless Summer Surf Camp
Endless Summer's 5 or 7 day, overnight surf camps include lodging, meals, surfing equipment, and expert surf coaching. They operate from a deluxe campsite near Trail #4 in the Bluff Campground at San Onofre State Beach. Surf instruction is done with no more than three students per instructor. They also have day camps. Sessions run from early June through early September. Several sessions are designated for adults, but most are for girls and boys from ages 11 to 17.
Endless Summer Surf Camp
Surfboard Rentals
Stewart Surfboards
Rentals of a wide range of surfboards. Surfboard sales.
2102 South El Camino Real, San Clemente, CA
1 (800) 265-8882
Stewart Surfboard Rentals
San Clemente Surf School
Rental delivery service of wetsuits and surfboards.
San Clemente Surf School
Surf and Skate Supply
Rental delivery service of surfboards and stand-up paddleboards.
Surf and Skate Supply
San Onofre Surfing Club
The San Onofre Surfing Club fosters the sport of surfing, makes responsible recommendations to the Department of Parks and Recreation pertaining to the operation and development of the San Onofre Surfing Beach, and seeks to retain the beach in its natural state.
They hold a number of events each year, usually at the Old Man's Shack. Check their website for events in 2018 such as the $10 Buck Chuck Surf Contest usually held in May.
For details about these events and club membership, see San Onofre Surfing Club
Ocean Safety
California State Parks and Recreation cautions that "large surf, cold water temperatures, backwash, sudden drop-offs, pounding shorebreak, and dangerous rip currents can turn what seem like safe activities such as playing near the surf line, wading, or climbing on rock outcroppings, deadly." Learn more about ocean safety at CA State Parks: Ocean Safety