Surfing and Swimming
While more experienced surfers head for Steamer Lane, many beginners paddle out from Cowells Beach hoping to catch waves closer to shore. Water quality has been a problem at Cowells Beach.
Boogie boarders have a great time at Santa Cruz Beach as do skim boarders and body surfers.
Monterey Bay Area Water Temperatures
Santa Cruz County Water Quality Reports
Caution: Check with rangers or lifeguards that conditions are safe for your planned activities.
Rough Water Swim
July 28, 2018 at 11:00 AM. A 1-mile swim around the Santa Cruz Wharf, sponsored by the Santa Cruz Masters & Santa Cruz City Surf Lifesaving Association. Part of Open Water Weekend, which includes a 2-mile Cruz Cruise swim.
(831) 420-5270 Rough Water Swim
Surf Schools
A number of organizations offer surfing lessons at Santa Cruz Beach. Surf Schools at Santa Cruz Beach are overseen by the City of Santa Cruz. Participants must wear a colored vest which identifies which surf school they are participating in.
Volleyball
Volleyball courts are available to the public on the main beach between the Boardwalk and the wharf. The California Beach Volleyball Association holds some of its events on Santa Cruz Beach. They have a variety of programs for all ages and abilities.
The Main Beach Volleyball Club was organized in 2002 to provide a competitive junior volleyball programs for local female athletes. They have since expanded to include a boys' program.
Main Beach Volleyball Club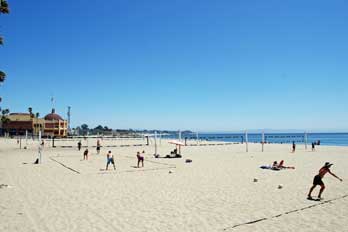 Free Movies on the Beach
Wednesdays at 9:00 PM from mid-June through mid-August on the Main Beach by the Boardwalk. Bring your blanket and a low back chair. Free.
Santa Cruz Beach Boardwalk Movie Schedule
Friday Night Bands on the Beach
Free shows on the beach every Friday beginning in mid-June through August. Two shows per night: 6:30 PM and 8:30 PM. Prime area seating begins at 4:00 PM.
Schedule of performers: Friday Night Bands on the Beach
Wharf to Wharf Race
July 22, 2018
Runners start in Santa Cruz and wind their way along the coast to Capitola. Live bands line the route. Race begins at 8:30 AM.
Wharf to Wharf Race