Caution: Before setting out, always check with rangers that conditions are safe for your planned activities. (707) 937-5804
Exploring the Tide Pools
Those who arrive at Schooner Gulch and Bowling Ball beaches are not only rewarded with fascinating geologic formations but also with captivating tide pools teeming with marine life.
Sea stars are usually find at the lower end of the tidal zone, clinging tenaciously to rocks. Ochre sea stars, however, are usually spotted in the middle of the tidal zone. Despite their name, they are often brown, orange and rose colored. The sea stars feed on the abundant shellfish such as mussels.
Another common resident of the tide pools, the sea anemone, can be found in a variety of colors. In northern California the giant green anemone can be found in the tide pools. Anemones are territorial and are known to battle one another to protect their space.
The radiating spines of the sea urchin warn predators to beware. For the most part they feed on kelp. Other creatures visitors are likely to see are limpets, barnacles, hermit crabs, and octopuses.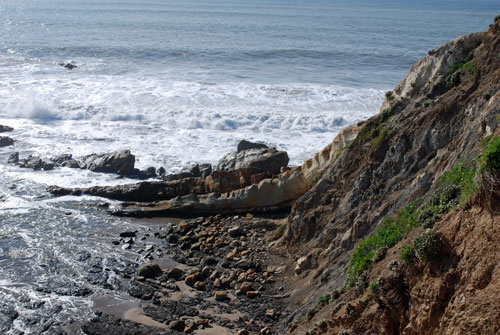 Rocks along the shore of Schooner Gulch Beach
Investigating the Geology of Bowling Ball Beach and Schooner Gulch
Trained and amateur geologists, along with casual visitors, find a great deal of interest among the eroded sandstone beds of the Miocene Galloway Formation at Schooner Gulch.
Bowling Balls
The spherical rocks that show themselves at low tide at Bowling Ball Beach are the most popular attraction in the area. These concretions were formed early in the process as buried sediment turned into rock. Mineral cement minerals like silica or calcite concentrate was likely deposited in layers growing outward from a central point. Some concretions have a mineral or fossil at their core, but others have only sand or clay.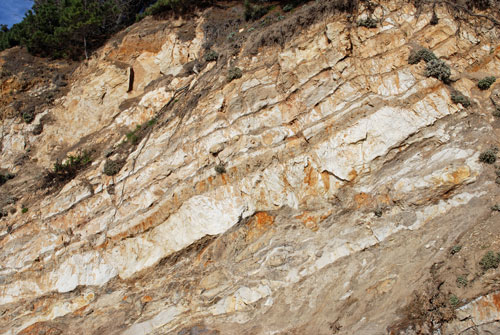 Bowling Ball Beach cliffs
Eroding Cliffs
Uplifting of the layers of sedimentary sandstone and mudstone reveals interesting formations all along the cliffs that border Schooner Gulch and Bowling Ball Beach. Variations in the layers of rock appear as the faces of the cliffs have eroded, exposing sweeping grooves and ridges.
Surfing
A reef and beach break at Schooners Gulch draws a scattering of surfers. The bottom is a mixture of flat rocks and sand. Consistent waves break both left and right. The most popular times for surfing are in the spring and summer. Offshore winds from the northeast produce some well shaped waves. Surfers are cautious about sharks, as well as rocks and the rip currents. At low tide too many rocks are exposed to make it a desirable surfing spot.
Nearby Activities and Events
B. Bryan Preserve - Africa on the Mendocino Coast
130 Riverside Dr.
Point Arena, CA
(707) 882-2297
B. Bryan Preserve
African hoofed wildlife - zebras, giraffes, kudu, and antelope.
Not a zoo, but a private preserve housing endangered animals
Tours available
Annual Point Arena Seafood and Harbor Festival
September TBA, 2018
At the Point Arena Pier
Live music, seafood, ale and wine, pirate costume contest
Free admission and parking.
Point Arena Seafood & Harbor Festival
Studio Discovery Tour
Labor Day weekend and the previous weekend, 2018
North Coast Artist' Guild members open their studios
Studio Discovery Tour
Flower Power Festival and Daffodil Explosion
March TBA, 2018
Town of Point Arena - daffodils line the roads
Scrabble tournament, crab feed, gelato tasting
Giant kites fly at the lighthouse
Flower Power Festival and Daffodil Explosion
Whale & Jazz Festival
April - May 2018
Presented by Gualala Arts
Original jazz work, whale education, jazz films, poetry and jazz, Chowder Challenge
Gualala Arts