Seacliff Beach Activities
Visitor Center
The Seacliff Beach Visitor Center is located at the bottom of the hill as you enter the park. Inside you can learn about the park's natural and cultural history. There is also information about the cement ship. Children especially enjoy the aquarium and touch tank with examples of creatures found in the nearby tide pools. A Park Store there helps to raise funds for education at local park.
Open Wednesday through Sunday from 10:00 AM to 4:00 PM.
(831) 685-6444
Friends of Santa Cruz State Parks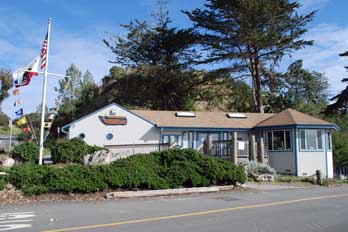 Seacliff to New Brighton Beach Trail
The 3-mile long round trip trail is actually a stroll along the beach in a northwesterly direction to New Brighton State Beach. Along the bluffs between Seacliff and New Brighton, are fossils from the Pliocene era when Seacliff and New Brighton were under 60 feet of water. Just a mere two and half to five million years ago. The fossils are protected by law and should not be disturbed. At New Brighton you will find restrooms and picnic areas are available there.
Caution: Before setting out, check with rangers or lifeguards that conditions are safe for your planned activities.
Interpretive Programs
Docent-led fossil, history and beach walks are offered in the summer. Also there are children's arts and crafts activities that highlight the Seacliff story. School field trip activities are provided free of charge year round.
Swimming at Seacliff
Although Seacliff Beach is considered one of the safest beaches along the California coast, it still is subject to rip currents, drop-offs, and occasional heavy surf. It is a good place for skim boarding, boogie boarding, and playing in the waves. Surfers look for better waves up and down the coast.
Monterey Bay Area Water Temperatures
Santa Cruz County Water Quality Reports
Pier Fishing
Fishing from the Seacliff pier is a favorite activity for many. Some come regularly to cast into their favorite spots. Halibut, perch, flounder, and other fish are commonly landed from the pier. For striped bass and salmon the best seasons are summer and fall. Fishing in the direction of the ship, anglers are more likely to hook rock fish.
Ken Jones' book Pier Fishing in California has complete information and tips for fishing Seacliff pier and others along the coast.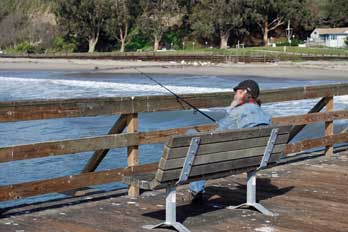 The Story of the Concrete Ship
The Palo Alto, a concrete freighter built in 1917, has been an attraction at Seacliff since it was towed to the beach and purposely sunk there in 1929.
During World War I a shortage of steel prompted the construction of 3 concrete ships in the United States. The Palo Alto was built in Oakland, but the war had ended by the time the ship was completed. It sat in Oakland for over a decade until the Cal-Nevada Company bought the ship and had it towed to Seacliff Beach and sunk in the shallows with the intention of converting her into an amusement and fishing vessel.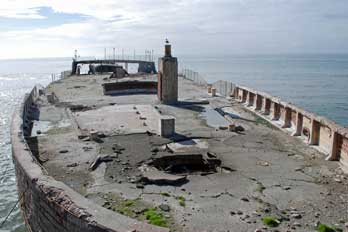 The following year a pier was constructed, leading out to the ship. Aboard The Palo Alto a dance floor was set up on the main deck, along with a cafe and a 54-foot long heated swimming pool. After only a couple of years the Cal-Nevada Company went broke. The ship was stripped of anything of value and abandoned.
For years visitors were allowed all the way out to the far end of The Palo Alto. Fishing from the deck was the most popular use of the scuttled vessel. Gradually over the years portions of the ship became too damaged for public use, and bit by bit the ship was partitioned off until now the entire vessel is off limits.
Harbor seals and birds have claimed the ship. The 500-foot long pier remains as popular as ever, attracting anglers and sight-seers from around the state. Spectators watch the ocean for whales, dolphins, and otters.
Storms in 2017 have caused significantdamange to the old ship. See Huge Waves Break Apart Historic 'Cement Boat'.
Rio Del Mar Beach Junior Lifeguards
Every summer the State of California Department of Parks and Recreation offers its Junior Lifeguards program. Currently it is offered at Rio Del Mar State Beach, immediately south of Seacliff Beach. Junior Lifeguards' teaches children how to deal with various water safety situations. The program consists of day camps (usually lasting three to five weeks) that provide instruction in first aid, CPR, ocean safety, rescue techniques, surfing and bodyboarding. The Santa Cruz area programs are held Monday through Friday from 10:00 AM to 3:00 PM.
The Santa Cruz State Junior Lifeguard Program is offered at Rio Del Mar, Manresa, and Twin Lakes state beaches for children ages 6-15. The program for 6-8 year-old children will only be offered at Rio Del Mar Beach, along with programs for 9 to 15 year-old children. Children new to the programs must attend the April or May swim test tryouts.
Santa Cruz State Junior Lifeguards
(831) 476 - 4992
Rio Del Mar State Beach 2018 Junior Lifeguard Schedule (ages 6-15)
Session I - June 18 - July 13, 2018
Session II - July 23 - Aug 17, 2018
Cost: $440 per session
Junior Ranger Program, Ages 7-12
Play games, hike trails, create your own animal, discover tracks, observe wildlife, all while making friends your own age in some of the best places in California!
Junior Ranger Program for children ages 7 - 12 covers topics such as geology, ecology, history, safety, plants, and wildlife. The Program can take place over several days, or you can start at one park, and then at another time go to a different park. Children should plan to spend about an hour at each activity.
The Junior Ranger Program is offered free of charge to visitors who have already paid park entrance or camping fees.
California State Parks Junior Ranger Program
Birding
The mouth of Aptos Creek is a good place in the off season to find congregations of gulls. Winter months are also a great time to watch for scoters, loons, and grebes. Cormorants and other seabirds are usually found out on the cement ship. Brown pelicans are often seen beyond the surf. In the summer and early fall, sooty shearwaters arrive in huge flocks seen out over the water. A good source of birding information is the Santa Cruz Bird Club