Silver Strand
State Beach
Silver Strand State Beach is situated along the isthmus that connects Coronado Island to the mainland. Within the state beach are two beaches, one fronting the Pacific Ocean and another across Highway 75, facing San Diego Bay. The two beaches are connected by three pedestrian tunnels under the highway.
Ocean-side Attractions
The miles of sand and surf on the ocean side of Silver Strand State Beach attract sun-bathers, sand castle builders, swimmers, surfers, and a myriad of others. Picnic facilities are located in several places along the edge of the sand. Restrooms, parking lots, outdoor showers, and the Silver Strand Beach Cafe are all easily accessible from the beach. Lifeguards are on duty.
Bay-side Attractions
On the San Diego Bay side of the state beach is popular Crown Cove, home to the Aquatic Center. The Aquatic Center offers a variety of programs for adults and youths. With slightly warmer and much calmer water, Crown Cove is a favorite destination for swimmers and small craft enthusiasts. Picnickers have plenty of areas to set up and enjoy a day beside the bay.
Access and Parking at
Silver Strand State Beach
To reach Silver Strand State Beach exit Highway 75 (Silver Strand Boulevard) at Coronado Cays Boulevard heading west. Follow the road around to the right will lead you to the entrance station. The gates open at 8 AM every day. Fees are $10 per vehicle ($15 on holiday weekends). Three large parking lots are available.
Camping
Camping sites are for self-contained RVs or trailers. There is no tent camping.
Silver Strand Bike Path
(aka Bayshore Bike Path)
The Silver Strand Bike Path makes a great place for cyclists to enjoy views of the ocean and the bay as they pedal along the palm-tree-lined path leading from Coronado to Chula Vista. Along the strand the path follows the old Sand Diego and Arizona Eastern Railroad track bed. To the south of Silver Strand State Beach the trail passes the San Diego Bay Wildlife Refuge, a 3,940-acre reserve. Bird watchers keep their eyes out for local and migratory birds.
Coronado Cays Park
Only a Frisbee toss south of the state beach is Coronado Cays Park, 6 acres of mostly grass. It is used mostly for tennis, soccer, baseball, and other field sports; but there is also a playground. Restrooms are available. Dogs are limited to designated areas.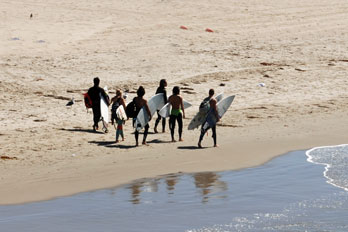 San Diego Bay National Wildlife Refuge
The San Diego Bay National Wildlife Refuge encompasses 2,620 acres south of Silver Strand Beach. The refuge is home to a diversity of endangered, threatened, and migratory species. Migrating Pacific green turtles are often found in the refuge. Much of the refuge is composed of coastal salt marsh and intertidal mudflat with expanses of eelgrass.
The South San Diego Bay Unit of the Refuge is closed to the public, but visitors can view the refuge from the Bayshore Bikeway. Among the birds often seen there are black brandt, gadwall, and northern pintail. Across the bay, portions of the Sweetwater Marsh Unit are open to the public from 10 AM to 4 PM.
San Diego Bay National Wildlife Refuge
Ocean Safety
California State Parks and Recreation cautions that "large surf, cold water temperatures, backwash, sudden drop-offs, pounding shorebreak, and dangerous rip currents can turn what seem like safe activities such as playing near the surf line, wading, or climbing on rock outcroppings, deadly." Learn more about ocean safety at CA State Parks: Ocean Safety