Viewpoints and Attraction
Duncan's Landing
Duncan's Landing has the reputation for being the site of more ocean deaths than any other along this dangerous stretch of coast. Large and unpredictable surf can crash high on the rocks without warning, catching unwary sight-seers and dragging them into the pounding surf. At times the waves have reached the parking lot.
Vista Point
Located at the far north end of the state park, Vista Point can be reached by a short trail leading out from a parking lot off Highway 1. There are restrooms and picnic tables available.
Arched Rock
Arched Rock is one of the iconic sites along the park's coast. The island rock with its arched opening is located 3 miles north of Bodega Bay at Arched Rock Beach. A trail leads down to the beach, but the rock can be appreciated from several overlooks on the bluff tops.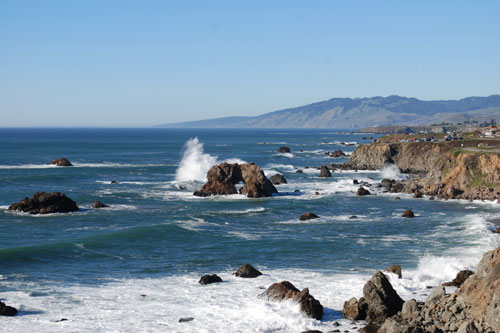 Russian Gulch
Similar to Russian Gulch in Mendocino County, Sonoma's Russian Gulch is a small beach at the mouth of a creek. A parking lot is located just off Highway 1 and trail leads to the beach. High bluffs rise on either side of the beach. Restrooms are located at the parking lot.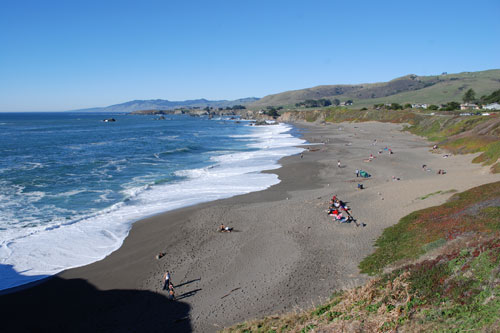 Portuguese Beach
State Marine Conservation Areas
The Russian River and Bodega Head State Marine Conservation Areas includes a section of the ocean at the mouth of the Russian River and a large area extending west from Bodega Head. Special regulations govern marine conservation areas.
The Communities of
Bodega Bay and Jenner
The small communities of Bodega Bay and Jenner provide basic services for visitors. Bodega Bay is known for a number of fine restaurants, coffee shops, and delis. Grocery stores and other shops are also found in town. Spud Point Marina in Bodega Bay has docks, fuel, a fishing pier, restrooms, laundry, and even WiFi.
The town of Jenner is much smaller, but they still offer several restaurants. The Sonoma Coast State Park Visitor Center is located in Jenner.
For information about area motels, resorts, inns, and bed and breakfasts, see out LODGING