Caution: Check with rangers or lifeguards that conditions are safe for your planned activities.
On the Sand at Trinidad Beach
While not safe for swimming, Trinidad Beach still has plenty to offer for visitors to its broad expanse of sand. From Trinidad Head, north to the far end of College Cove Beach, is nearly a mile. At low tide visitors like to make the stroll, all the time watching as waves crash against Pewetole Island, Flatiron Rock, and a number of sea stacks. A grove of Sitka spruce crowns Pewetole Island. Those in the know watch for an eruption of the blowhole in the island.
The beach is popular for playing Frisbee, flying kites, sitting in a comfortable chair and reading, birding, sunbathing, fishing, volleyball, and building sandcastles. Dogs on leashes no longer than 6 feet are allowed on Trinidad Beach as well as on the trails and parking areas.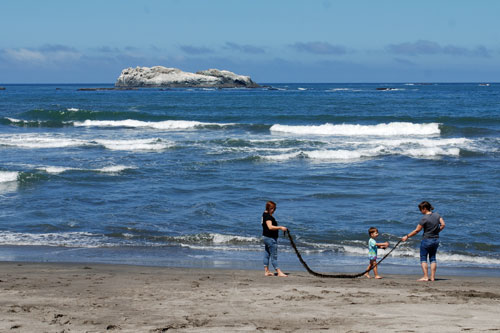 Trinidad Beach and Flatiron Rock
Surfing at Trinidad Beach
Surfers at Trinidad Beach find a reasonably consistent reef and beach break. Waves at the beach will break right and left. Even with a mostly sandy bottom surfers have to be on the lookout for rocks. It's not a spot for beginners.
Camel Rock and Moonstone Beach to the south of Trinidad draws a fair number of surfers.
Surf Lessons
Moonstone Beach Surf Camp
Trinidad, CA
(707) 822-5099 Moonstone Beach Surf Camp
Small group and private lessons, ages 8 and older.
Trinidad State Beach Surf Lessons
Trinidad, CA
Trinidad State Beach Surf Lessons
Any age, beginner through advanced.
Surfboard, Kayak, and Paddleboard Rentals
Salty's Supply Co.
332 Main St., Trinidad, CA
(707) 677-0300 Sally"s Supply Co.
Sales and Rentals
Surf Rentals: boards, wetsuits, and accessories.
Kayak Rentals: Single and tandem
Bike Rentals, fishing and crabbing rentals
Kayak Zak's
Humboldt Lagoons State Park,
115336 Highway 101, Trinidad, CA
(707) 498-1130 Kayak Zak's
Kayak and Standup Paddleboard Rentals at Stone Lagoon, Big lagoon County Park, and Trinidad Cove
Kayaks, SUPs, and all the accessories
Guided trips available
Diving around Trinidad
Divers find a sheltered area to explore the ocean's wonders in Trinidad Bay. Trinidad Head shelters most of the severe waves and ocean rocks such as Prisoner Rock and Flat Rock offer even further protection. Access to the water is easy from near the harbor.
Snorkelers also favor College Cove with an abundance of sea life, tide pools, and marine mammals lounging on nearby rocks.
Local Diving Group
Humboldt Skindivers
Scheduled club dives, meetings in Arcata
Fishing in Trinidad Waters
Fishing from Trinidad Pier
Many casting their lines off the old, wooden Trinidad Pier (also known as Seascape Pier) have hopes of salmon or halibut. Lingcod are often caught here along with a variety of rockfish, perch, herring, and sole. Once in a while someone will hook an eel, ray, or shark. Since it is a private pier, anglers need a fishing license. They also should stay clear of commercial fishing activities taking place on and around the pier.
Surf anglers do fairly well along the coast near Trinidad, landing smelt, rockfish, and redtail perch.
Sport Fishing Charters in Trinidad
Patrick's Point Charters
Specializing in rockfish, crab, and salmon
(707) 445-4106
Trinidad Bay Charters
Specializing in light tackle rockcod fishing
(707) 499-8878
Wild Rose Charters
Specializing in salmon, rockfish, and halibut
(707) 497-4354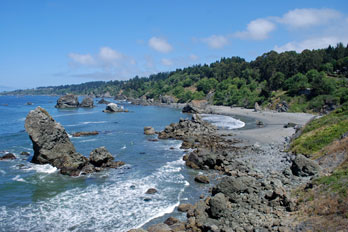 Luffenholtz Beach
Exploring Tide Pools
One of the most interesting places to explore tide pools around Trinidad is Luffenholtz Beach, south of town. A trail from a small parking areas leads down to the beach. Luffenholtz Creek sloshes across the sand into Trinidad Bay. Numerous tide pools are found along the shore, but visitors must keep a constant eye on the ocean. Rogue waves and incoming tide can be serious dangers.
More tide pools are found at College Cove Beach at the north end of Trinidad State Beach. Approach by trail from a parking lot off Stagecoach Road. Expect to find sea urchins, sea stars (starfish), clams, mussels, and perhaps some small creatures such as crabs. Tide pools can also be found at Baker Beach south of town.
Nearby Activities and Events
Trinidad Fish Festival
Father's Day
Trinidad School, 300 Trinity St., Trinidad, CA
11:00 AM to 5:00 PM
barbecued salmon and other fish
Live music, tide pool walks, tour of Marine Labe, wine, beer and other refreshments
Free tours of the working lighthouse on Trinidad Head are offered once a year to the public during the Trinidad Fish Festival
Trinidad Fish Festival
Trinidad Museum
400 Janis Ct., Trinidad, CA
Open Wed. - Sun., noon to 4 PM
Rotating exhibits such as the history of commercial fishing in the area, local artists, Native American art, history of Trinidad Whaling Station
Includes a native plant garden
Trinidad Museum
Humboldt State University's Marine Laboratory
570 Ewing St., Trinidad, CA
Self-guided tours:
Weekends (during the school year) 10:00 AM to 5:00 PM
Mon.-Fri. (year-round), 9:00 AM to 4:30 PM
Marine Laboratory
Trinidad Art Gallery
490 Trinity Street, Trinidad, CA
Cooperative art gallery featuring local artists
Jewelry, ceramics, stained glass, photography, textiles, and more
Open daily 10 AM to 5 PM
Trinidad Art Gallery
Redwood Trails Private Horse Rides
265 Redwood Trails Circle, Trinidad, CA
Rides depart from the Rodeo Grounds in Orick
1 hour to all-days rides available
Redwood Trails Horse Rides
Trinidad to Clam Beach Run & Walk
January 27, 2018
8.75 miles, 5.75 miles, or 3 miles - choose your race
Roads, hills, and forests
Trinidad to Clam Beach Run & Walk
Books of Local Interest
Ocean Safety
California State Parks and Recreation cautions that "large surf, cold water temperatures, backwash, sudden drop-offs, pounding shorebreak, and dangerous rip currents can turn what seem like safe activities such as playing near the surf line, wading, or climbing on rock outcroppings, deadly." Learn more about ocean safety at
CA State Parks: Ocean Safety
California's Best Beaches
Every effort is made to provide accurate and up to date information, but we cannot be responsible for errors or for changes that may have occurred since publication. Always confirm information with the service provider and check for any recent changes that may have been made. Also, check with lifeguards that conditions at the beach are safe for your planned activities.
The information provided on this website is done so without warranty of any kind, either expressed or implied, including but not limited to, the implied warranties of merchantability and fitness for a particular purpose.