Nearby Mendocino Beaches
Van Damme
State Park
Location
Highway 1, three miles south of Mendocino, CA; 27 miles north of Manchester Beach
Open 8:00 AM to 9:00 PM (10 PM in summer)
Visitor Center (seasonal) (707) 937-4016,
District Office (707) 937-5804
Day-use fees: $8
Main Attractions
Diving, kayaking
Camping, hiking
Cycling, jogging
Park Features
Visitor Center
Day-use area at beach
Hiking trails through Fern Canyon and Pygmy Forest
Kayak tours
Tidepools and sea caves
Campground
Restrooms, showers
Dump station
Amphitheater
Accessibility
Campsites, picnic area
Parking, restrooms
Hazards Include
Crumbling cliff edges
Rogue waves
Rip-currents
Cold water
Caution: Check with rangers or lifeguards that conditions are safe for your planned activities.
Regulations (partial list)
No dogs on beach.
Dogs in campground must be attended and on leash.
Underwater features protected.
Alcohol and glass containers are not permitted outside campsites.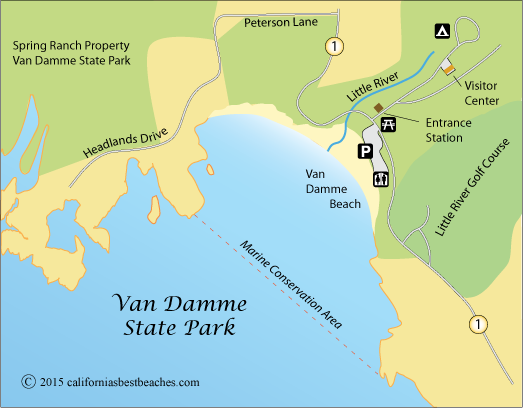 Van Damme Beach
Van Damme Beach is most popular as a launching spot of diving and kayaking. The rocky points on either side of the beach offer protection from harsh waves and form a relatively calm expanse of water in the cove favored by abalone divers, beginning scuba divers, and kayakers who enjoy exploring the rugged shoreline.
The small cobble and sand beach makes a scenic place for visitors to spread their blankets or set up their beach chairs for a few hours of sunshine and refreshing sea breeze. The campgrounds and facilities of Van Damme State Park are within easy walking distance, immediately across the highway.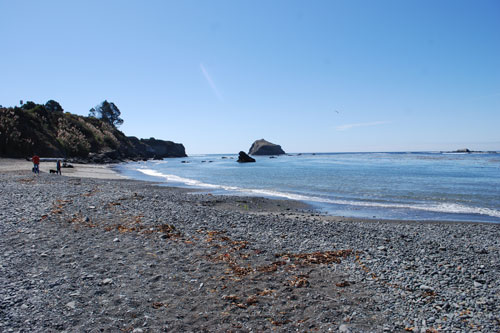 Around the Park
Little River flows through Van Damme State Park and spills into the ocean at the beach. The river provides habitat for steelhead, coho salmon, sculptin and little stickleback. The riparian plant community at Van Damme State Park includes willow, red alder, grand fir and western hemlock. Sitka spruce finds its southernmost limit in the park.
A wide variety of birds are found along the shore and up the Little River canyon. Among them are Swainson's thrush, kingfishers, yellow warblers, and northern spotted owls.
Spring Ranch Property
The Spring Ranch Property roughly spreads across the headlands south of Chapman Road and north of Headlands Drive. The old ranch property, which was acquired by the state in 1996, is now part of Van Damme State Park. Largely undeveloped, the Spring Ranch land features a number of trails which can be accessed from Highway 1.
Local residents in conjunction with the Mendocino Area Parks Association and the California State Parks are working to stabilize and preserve the old barns on the property.
Van Damme
State Marine Conservation Area
The Van Damme State Marine Conservation Area covers the waters off Van Damme Beach. Special regulations govern marine conservation areas. For the Van Damme Area the regulations permit most kinds of commercial and recreational fishing in accordance with current regulations. Take of bull kelp and giant kelp is prohibited.
Several shallow- water reefs are easily accessible either by swimming from shore or using small watercraft launched from Van Damme Beach. The cove at Van Damme Beach is one of the most popular destinations in the state for recreational abalone diving and shore-picking. It is often chosen as the site for dive-club organized spearfishing competitions.
Ocean Safety
California State Parks and Recreation cautions that "large surf, cold water temperatures, backwash, sudden drop-offs, pounding shorebreak, and dangerous rip currents can turn what seem like safe activities such as playing near the surf line, wading, or climbing on rock outcroppings, deadly." Learn more about ocean safety at CA State Parks: Ocean Safety
Search This Site