Nearby
Activities and Events
Malibu Surf and Sports Festival
July TBA, 2015
Zuma and Malibu Surfrider beaches
Surf events, craft racing, beach volleyball, surf contest
Estimated attendance: 50,000
Malibu Surf and Sports Festival
Malibu Arts Festival
Malibu Civic Center
July 25-26, 2015, 8 AM - 6 PM
Over 200 award-winning painters, sculptors, photographers, and other artisans work on display in front of the Civic Center
Malibu Arts Festival
Malibu International Half-Marathon
November 15, 2015, 7:00 AM
Starts and finishes at Point Mugu Beach.
Malibu International Half-Marathon
Malibu Lagoon Museum
23200 Pacific Coast Highway, Malibu, CA
Historic Adamson House and Malibu Lagoon Museum
Docent led tours
(310) 456-8432
Malibu Lagoon Museum
Lake Piru
43 miles north of Malibu
Boating, fishing, camping
Lake Piru
Malibu Area
Maps and Books
Zuma Beach Activities
Surfing
Zuma Beach's exposed beach break brings in consistent waves that attract beginning and intermediate surfers. Conveniently summer usually delivers the best waves, especially when there are offshore winds from the northeast. Surfers enjoy both lefts and rights. Southwest swells can produce some great barrels.
Because of the length of the beach crowds are rarely a problem at Zuma . Body boarding and skim boarding are popular in the choppy surf. Beginning surfers often struggle with the short waves that dump quickly onto the beach. Better learning spots are found up the coast at County Line (see photo below) and Nicholas Canyon's Zeros.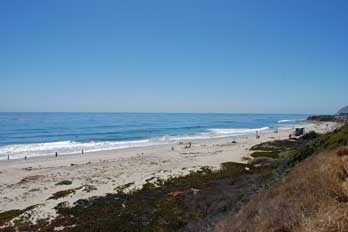 Kiteboarding
Launching kiteboards at Zuma Beach is prohibited through most of the summer because of the large crowds on the beach. If the beach is clearly empty, check with the lifeguards for permission. Winds at Zuma are good, but the surf can be rough and rip tides hazardous.
A good source of information is the Southern California Kiteboarding Association.
Stand-Up Paddleboard Supathlon
This unusual event combines running and stand-up paddleboarding, beginning at Thornhill Broome Beach Campground at 7:45 AM on November TBA, 2015. Participants transition to ocean conveyances at Leo Carrillo State Beach and paddle south to Zuma Beach. The event is held in conjunction with the Malibu International Marathon.
Participants may opt for stand-up paddleboards, outrigger canoes, or classic paddleboards.
Malibu International Supathlon
Nautica Malibu Triathlon
The popular Nautica Malibu Triathlon is set for September 19-20, 2015 at Zuma Beach. The Herbalife International Distance Race begins at 7:00 AM on Saturday and the Classic Distance Race sets off at 7:00 AM on Sunday.
Saturday's International Race starts with a 1½K swim at Zuma Beach, followed by a 40K bike ride up the coast to Deer Creek Road and a 10K run along the edges of Zuma and Westward beaches.
Sunday's Classic Race starts with a ½-mile swim at Zuma Beach. After the swim is an 18-mile bike route that turns around at Leo Carrillo State Park and a 4-mile run along the beaches.
Triathlon Beach Activities
Festivities on the beach on September 19 include a sandcastle demo from 11:00 AM to 5:00 PM and triathlon instructional clinics from 1:00 PM to 4:00 PM. On Sunday, September 20, a Nautica Kid's Run and Tot Trot will be held at 9:45 AM.
Parking lots open at 4:00 AM on Saturday and 4:30 AM on Sunday.
Nautica Malibu Triathlon
Volleyball
10 volleyball courts are located at the southern end of Zuma Beach near parking lot 1. They are available for public use. The California Beach Volleyball Association holds some of its events on Zuma Beach. They have a variety of programs for all ages and abilities.
Beach Volleyball Camps
Sinjin Smith and Randy Stoklos' Beach Volleyball Camps offer a summer beach volleyball camp at Zuma Beach. Participants can join for one day, 5 days, 10 days, 20 days, or the entire summer. They also offer a Sand & Sea Beach Camp. Check their website for current dates and prices.
Beach Volleyball Camps
Pepperdine University Sand Volleyball
Pepperdine University's women's sand volleyball team calls Zuma Beach their home court. Catch the springtime excitement of college volleyball competition at Zuma.
Pepperdine Women's Sand Volleyball
Beach Soccer Tournaments
Copa Cabana Beach Soccer Tournaments for 2015 include a Youth/Adult/ProAm Tournament on March 21-22, 2015. Teams register 12 players with 5 on the field at any one time.
Copa Cabana Beach Soccer
Zuma Beach Junior Lifeguards
The Junior Lifeguards program develops skills in ocean swimming and in dealing with hazards in the ocean. Participants learn about water safety, surf rescue, surf riding, and first aid. The 5-week program is open to youths ages 9 to 17. Participants meet at Lifeguard Tower 9 at Zuma Beach.
New participants must pass a basic swimming test held in April and May.
LA County Junior Lifeguards
Zuma Beach Program Schedule
Session I: June 22 through July 23, 2015
Session II: July 27 through August 22, 2015 (morning sessions only)
Monday - Friday, Two Sessions:
Morning Session - 8:30 AM to 11:30
Afternoon Session - 1:30 PM to 4:30 PM