Rancho Guadalupe Beach and Dunes
Rancho Guadalupe Beach and the adjoining Guadalupe Dunes Preserve extend south along 3 miles of coastline from the Santa Maria River to Mussel Rock. The dunes soar to an amazing 500 feet in places, making them the highest sand dunes along the coast.
To the north is the Guadalupe-Nipomo Dunes National Wildlife Refuge, protected as a nesting place for the endangered Snowy Plover during part of the year. The wildlife refuge has 1.8 miles of ocean front. More than a hundred species of rare plants and animals are found in the refuge.
The entire dunes complex spreads for 18 miles along the coast. The northern parts are included in the Oceano State Vehicular Recreation Area.
The dunes were the location for the filming of part of Cecil B. DeMille's classic 10 Commandments.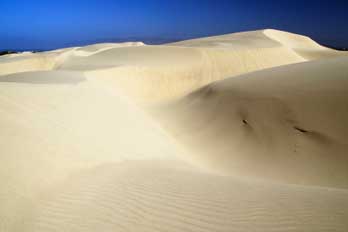 Guadalupe-Nipomo Dunes National Wildlife Refuge
The Guadalupe-Nipomo Dunes National Wildlife Refuge was established to protect breeding habitat for the endangered California least tern and the threatened western snowy plover. Other endangered species found in the refuge include the California tiger salamander, the California red-legged frog, Morro blue butterfly, shoulder band dune snail, and 16 rare or endangered plant species. Other animals found in the refuge are mountain lions, bobcats, mule deer, and a wide variety of birds.
Access the refuge near Oso Flaco Lake via Oso Flaco Lake Road or on West Main Street out of Guadalupe. The refuge is administered by Hopper Mountain National Wildlife Refuge Complex in Ventura, California.
The Guadalupe-Nipomo Dunes Interpretive Center had information about the dunes and other points of interest in the area. They are located at 1065 Guadalupe Street in Guadalupe. They are open Saturdays and Sundays from 10:00 AM to 4:00 PM.
Paradise Beach
The area around Paradise Beach north of Sal Point is jointly owned by Santa Barbara County, the state of California, and the US Bureau of Land Management. Combined, the property covers about 560 acres. Efforts are underway to add additional land and create an 800-acre Point Sal Reserve.