Caution: Check with rangers or lifeguards that conditions are safe for your planned activities.
Newport Beach Surfing
Surfers know Newport Beach as one of the best surfing areas along the Orange County coast. Perhaps the most famous of them, The Wedge lifts towering waves at the Newport Jetty wall that challenge even the most experienced surfers. Bodyboarders and bodysurfers are more often seen at the Wedge. During the summer and fall lifeguards raise a flat with a black ball, indicating that no boards may be used at the Wedge between 10 AM and 5 PM. Waves have been known to reach 30 feet.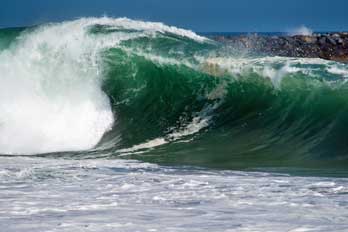 The Wedge
Up the beach at 54th - 56th streets surfers flock to the fast moving surf generated by the string of jetties. Consistently good waves break left and right in a number of peaks. The spot is usually crowded. More good waves can be found anywhere along the beach north of the pier. One popular alternative is farther up the beach at West Newport.
Surfing Competition at Newport Beach
The Annual Newport Beach Surf Championships attract local surfers of all ages in late September. Categories include elementary aged surfers, middle school ages, high school, open divisions, legends, masters, and hall of fame.
Surf Lessons and Camps
Newport Beach Surfing Lessons
Founded by professional surfer Sean Louden, Newport Beach Surfing Lessons specializes in private and small group lessons for all levels, ages 4 and older. Must be able to swim. Located in the heart of Newport Beach.
Newport Beach Surfing Lessons
Endless Sun Surf School
A staff of CPR-certified professional surfers provide instruction for surfers of all ages. Wetsuits and boards are provided. Endless Sun Surf also has summer camps and dedicated women's surf classes as well as after school surf classes.
Endless Sun Surf School
Newport Surf Camp
Hands-on instruction for children ages 5 - 16 of all skill levels. Develop your skills and learn the latest tricks and maneuvers along with ocean safety. Week-long or 3-day, full and half-day camps offered from early June through August. Private lessons also available. Located at 28th Street on Newport Beach.
Newport Surf Camp
Surfari Surf Lessons
Surfing lessons for all ages. During a 1½-hour lesson build your skills, learn proper paddling, positioning, standing, falling, and ocean awareness. Lessons include surfboard, wetsuit, and rash-guard t-shirt. Located on Newport Beach.
Surfari Surf Lessons.
Beach Rentals and Sales
Seaside Bike Rentals
All kinds of bikes to rent - surreys, men's and women's beach cruiser and mountain bikes, children's bikes, tandem bikes and tagalongs. also electric bikes, child trailers, beach wagons, and bocce ball sets. Helmets and bike locks are included in rental. Located near the Balboa Pier.
105 Main Street, Newport Beach, CA
Seaside Bike Rentals
Surfari Surf Rentals
Rentals of short boards, fishes, long boards, soft boards, body boards, stand-up paddleboards, rash guards, and wetsuits. Open 9:30 AM to 4:30 PM daily.
6000 West Coast Highway, Unit C, Newport Beach, Ca
Surfari Surf Rentals.
15th Street Surf Shop
Rentals of boogie boards, skim boards, surfboards, wetsuits, and fins. Also rent bicycles, beach chairs and umbrellas, volleyballs and nets.
103 15th Street, Newport Beach, CA
15th Street Surf Shop
Jack's Surfboards Newport Beach
sales of surfboards, wetsuits, skateboards, and all kinds of accessories
2727 Newport Boulevard, Newport Beach, CA
Jack's Surfboards
Newport Beach Bike Trail
The Newport Bike Trail is a concrete multi-use trail than runs for about 3 miles along the edge of the beach. It is popular with cyclists, walkers, and skaters. Some cyclists like to make the connection with the Huntington Beach Bike Trail and ride all the way up to Bolsa Chica Beach.
Newport Beach Volleyball
Sand volleyball courts are along Newport Beach and Balboa Beach. Some have nets, others are ready for beach-goers to tie up their own nets.
Beach Volleyball Camps
Ed Ratledge's VolleyOC Summer Camps For boys and girls ages 11 to 17. No previous beach volleyball experience is needed. Participants learn basic skills and enjoy fun games to practice those skills. 5-day sessions from 9 AM to noon.
VolleyOC Beach Volleyball Camps
Fishing off the Piers
The Newport Pier
the Newport Pier is popular with anglers. They like the ambiance of the old pier. Catches are often of the familiar fish of Southern California such as serfperch, corbina, croaker, stingrays, mackerel, rockfish, and guitarfish. But fisherman can sometimes be surprised by the rare landing of sablefish, giant black sea bass, and triggerfish.
Amenities on the 1,032-foot long pier include fish cleaning stations, lights, and benches. At the foot of the pier are restrooms. The pier is open from 5 AM to midnight.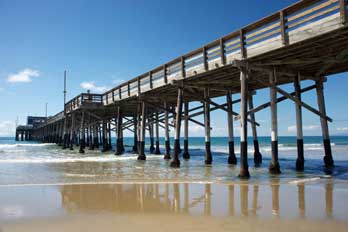 The Balboa Pier
Fewer anglers gather on the Balboa Pier than on its neighbor the Newport Pier. Close to the Newport Submarine Canyon, fishermen on the pier often land deep water fish. Close to shore catches usually include surfperch, croakers, and rays. Farther out anglers hook mackerel, sharks, halibut, and now and then a barracuda.
Like its sister pier, the Balboa Pier is open from 5 AM until midnight. Amenities include fish cleaning stations, lights, and benches. Restrooms are located on shore at the foot of the pier.
Ruby's Diner
Ruby's Diner is situated at the end of the pier. They are open from 8 AM to 8 PM. Breakfast is served until 11:30 AM.
Newport Beach Junior Lifeguards
The Newport Beach Junior Lifeguards program for ages 9 to 15 teaches ocean and beach safety, physical development, and first aid skills. Special events include a hot dog dinner, the Santa Barbara Fiesta, Monster Mile, and weekly field trips.
Prospective participants must be able to swim 100 yards under age specified time limits and tread water for 3 minutes. Tryouts are held in March. The program begins in late June and continues through early August. Morning sessions are from 9 AM to noon on most days and afternoon sessions from 1 PM to 4 PM, Monday through Thursday, except for some special Friday events.
Newport Beach Junior Lifeguards
Balboa Fun Zone
Located next to the Balboa Pavilion on the harbor side of the Balboa Peninsula, the Balboa Fun Zone is a landmark entertainment site in Newport Beach. The centerpiece is their towering Ferris Wheel which offers birds-eye views of the harbor and beach. The Ferris Wheel operates from 11 AM to 6 PM Sunday through Thursday, 11 AM to 9 PM on Fridays and 11 AM to 10 PM on Saturdays. Also there is the Balboa Arcade.
Balboa Fun Zone