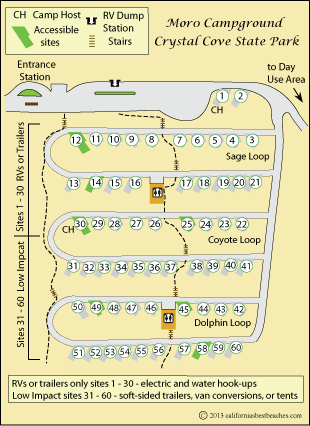 Suggestions and Comments from Previous Campers at Crystal Cove State Park
Everything seems brand new and very clean.
Campgrounds are tiered so everyone has a view of the ocean.
Campsites are narrow and deep with room for your chairs, hammocks, etc.
The hike to the beach is about 10 minutes downhill, or you can opt to drive down.
Find the turn-off to the state park near the El Morro Elementary School.
Reserve your space well in advance for summer camping.
Highlights of Crystal Cove State Park
3.2 miles of beach and 2,400 acres of undeveloped woodland
Beach is popular with scuba divers, swimmers, and surfers.
Tide pools
The Historic District is composed of 46 rustic cottages erected as a ocean-side colony in the 1930s and 1940s
The Beachcomber Cafe is open for breakfast, lunch, and dinner.
Dirt roads and single tracks are open to mountain bikers
Equestrian trails popular for riding
Back country camping sites available
Stay in a beach cottage: Crystal Cove State Park Reservations
Nearby State Beach Camping
San Clemente State Beach
225 Avenida Califia
San Clemente, CA
(949) 492-3156
Facilities: RV and Tent campsites, group campsites, picnic area, restrooms, showers, day-use area.
Fees: Regular sites $35, Hook-up sites $60
Online Reservations at ReserveCalifornia:
San Clemente State Beach Campground Reservations
or call (800) 444-PARK (7275) between 8 AM and 6 PM
San Onofre State Beach
830 Cristianitos Road
San Clemente, CA
(949) 492-4872
Facilities: Two campgrounds with a total of 309 Tent and RV campsites with picnic tables and fire pits, electric and water hook-ups, restrooms, hot showers, dump station
Fees: Regular sites $35, Hook-up sites $60
Online Reservations at ReserveCalifornia:
San Onofre State Beach Campground Reservations
or call (800) 444-PARK (7275) between 8 AM and 6 PM
Bolsa Chica State Beach
Pacific Coast Highway, Huntington Beach, CA
(714) 846-3460
Facilities: RV or trailers only, oceanside sites, water and electric hook-ups, restrooms, dump station, concession stands nearby
Fees: Regular sites $50, Hook-up sites $65
Online Reservations at ReserveCalifornia:
Bolsa Chica State Beach Campground Reservations
or call (800) 444-PARK (7275) between 8 AM and 6 PM
Nearby Parks with Campgrounds
Ronald W. Caspers Wilderness Park
33401 Orega Highway, San Juan Capistrano, CA
(949) 923-2210 or (949) 923-2207
Facilities: Family Campground, RV electrical hook-ups, dump station, BBQs, restrooms, showers, trails, nature center, interpretive programs, equestrian camp
Fees: $20 per night plus $6 per night electrical fee for those using hook-ups
Reservations: Orange County Parks - Casper Wilderness
O'Neill Regional Park
30892 Trabuco Canyon Road, Trabuco Canyon, CA
(949)923-2260 or (949)923-2256
Facilities: 79 Family Campsites for tents or RVs, group campgrounds, equestrian camping, restrooms, showers, sanitary station, nature center, playground
Fees: $20 per night
Reservations: Orange County Parks - O'Neill Region Park Camping
Greater Area RV Campgrounds
Newport Dunes Waterfront Resort & Marina
1131 Back Bay Drive, Newport Beach, CA
949) 729-3863
Newport Dunes Waterfront Resort
RV Sites: 382 RV sites, tent sites
Amenities: Back Bay Bistro, banquet facilities, market place, pool and spa, watersports and beach rentals, playground, fitness center, laundry, restrooms, marina, boat launch
Rates: $$$$
Sunset Vista RV Park
Pacific Coast Hwy. at 1st Street, Huntington Beach, CA
(714) 536-5286 Sunset Vista RV Park Reservations
Camping Season: October 1 - May 31
RV Sites: Oceanside sites with water and electric hook-ups (30 and 50 amp)
Amenities: Restrooms, outside showers, central disposal station.
Rates: $$
Huntington by the Sea RV Park
21871 Newland Street, Huntington Beach, CA
At the end of Imperial Highway
(714) 536-8316
Huntington by the Sea RV Park
RV Sites: Full hook-ups (no tents), cable TV
Amenities: Laundry, club house, swimming pool, rec room, games, internet
Rates: $$ - $$$
Anaheim Resort RV Park
200 W. Midway Drive, Anaheim, CA
(714) 774-3860
Anaheim Resort RV Park
RV Sites: Cable TV, full hook-ups, 20-50 amp, pull-through sites available, picnic tables
Amenities: Continental breakfast, club house, swimming pool, hot water spa, free WiFi, laundry, restrooms, showers, RV supplies, dog walk,
Rates: $$
Orangeland RV Park
1600 West Struck Avenue, Orange, CA
(714) 633-0414 Orangeland RV Park
RV Sites: 195 paved RV Sites, full hook-ups (20-50 amp), WiFi, free cable TV
Amenities: Restrooms, heated swimming pool, Jacuzzi, convenience store, outdoor games, laundry clubroom, playground, exercise room, picnic area, dog walk and wash
Rates: $$$
Oceanside RV Park
1510 South Coast Highway, Oceanside, CA
(760) 722-4404 Oceanside RV Park
RV Sites: Full hook-ups, 30 amp, cable TV, tent sites
Amenities: Propane, laundry, bathrooms with showers, meeting room, spa, pool, walk to the beach
Rates: $$
Paradise by the Sea RV Resort
1537 South Coast Highway, Oceanside, CA
(760) 439-1376 Paradise by the Sea RV Resort
RV Sites: 91 sites with Cable TV, WiFi, full hook-ups, 30 amp or 50 amp
Amenities: Pool, hot tub, restrooms, laundry, small grocery/RV store, recreation room, beach rentals, walk to beach
Rates: $$