Nearby Activities and Events
Monterey Bay Plein Air Painters Association
Exhibits featuring art from Point Lobos Reserve, regular paint outs at Point Lobos.
MBPAPA
Carmel Art Festival
May 18-20, 2018
Devendorf Park & Mission St.
Carmel-by-the-Sea
Juried art show, silent auction
Sculpture-in-the-Park with live music and Kids Art Day
Carmel Art Festival
Big Sur International Marathon
April 29, 2018
26135 Carmel Rancho Blvd.
Carmel, CA
Entries have already closed for the 2014 race. The course extends from Big Sur to Carmel.
Big Sur Marathon Events
Carmel-by-the-Sea Concours on the Avenue
August 21, 2018
Ocean Avenue, Carmel, CA
10:00 AM - 5:00 PM
Over 175 legendary vehicles on display from luxury cars to muscle cars, hot rods to sporting cars
Concours on the Avenue
Garland Ranch Regional Park
700 W. Carmel Valley Rd.
Hiking, photography, horseback riding, jogging, walking, bird watching, and limited mountain biking.
Garland Ranch Regional Park
Diving
in Monterey Bay
Point Lobos Trails
A network of trails connects all parts of the Point Lobos Reserve, providing a variety of experiences for visitors from coastal walks to forest and meadow adventures. You can borrow binoculars at the Sea Lion Point parking area.
Caution: Check with rangers or lifeguards that conditions are safe for your planned activities.
Sea Lion Point Overlook, 0.6 miles round-trip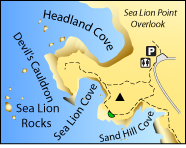 Hike out to Sea Lion Point where an overview offers great views of Sea Lion Cove and out toward Sea Lion Rocks. Along the way stop at Sand Hill Cove for harbor seals sprawled on the rocks at the water's edge and perhaps a few sea otters. Find the observation point on the trail between the two coves. Then take the stairs down to Sea Lion Point.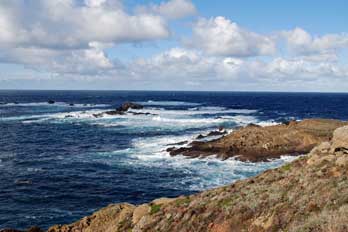 Bird Island Overlook, 0.8 miles round-trip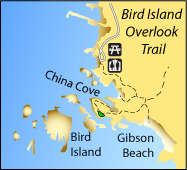 Take your binoculars and head out from the Bird Island trailhead parking lot. Along the way look for sea otters and harbor seals in China Cove. Take the stairs down or watch from above. Swimming and wading are permitted at China Cove and nearby Gibson Beach. Best in spring and summer when sea bird colonies on Bird Island are at their height.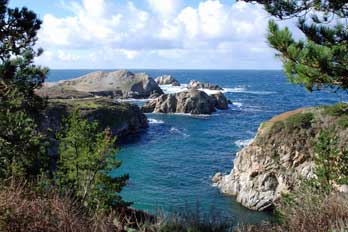 Cypress Cove Trail, 0.8 miles round-trip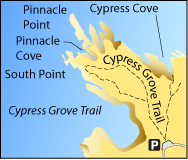 Enjoy a short walk out Point Lobos through one of only two natural Monterey cypress tree groves. The trail takes you around the headland where you will likely spot sea lions and otters. Great views of the rocky coastline. Look for wildflowers in the rocks and giant kelp beds floating nearby in the sea.
Other trails around Point Lobos include the North Shore Trail, Cabin Trail, Pine Ridge Trail, and Whalers Knoll Trail. For a complete list of trails and information about them, see the Point Lobos Foundation website.
Summer Adventures for Children
The Summer Outdoor Program at Point Lobos is an opportunity for children ages 8-12 to have fun and learn about the outdoors. The program is offered by the staff at Point Lobos State Natural Reserve.
Participants enjoy field trips to places such as Pinos Light House and Elkhorn Slough. They hike to new places, learn about undersea life, work on nature projects, make jam from berries they pick, and much more.
Sessions are usually two weeks long, from 9:00 AM to 3:00 PM, one session in June and another in July. Cost is $250 per session.
Summer Adventures Program Coordinator: (831) 624-3494
Point Lobos Museums
Whalers Cabin Museum
Although called the Whalers Cabin, the small structure near Whalers Cove was probably built by the Chinese in the 1850s. Today the cabin is a museum filled with items that reflect the lives of early inhabitants of Whalers Cove, including native Americans, Chinese and Japanese fishermen, and Portuguese whalers.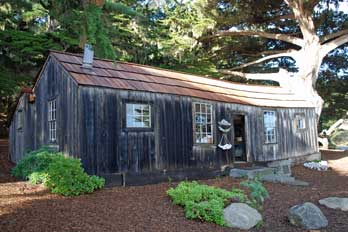 Whaling Station Museum
In a building next to the cabin is a whaling museum, which opened in 1994. Among the interesting whaling artifacts are harpoons, rendering pots, and whale bones. Old photographs help to tell the story of whaling in the Point Lobos area.
Both museums are open daily as staffing permits, usually from 11:00 AM until 3:00 PM. It is best to call before you visit to check on current museum hours. (831) 624-4909
Guided Walks
Guided walks through the Reserve are held on various days through the month. A schedule is posted at the entrance station or you can check online for the times of walks coming in the next few days. Point Lobos Foundation. Group tours should be arranged ahead of time.
Information Station
An information station is staffed by volunteer docents at the Sea Lion Point parking area. The information station is usually open from 9:00 AM to 4:00 PM. Binoculars are available to borrow there.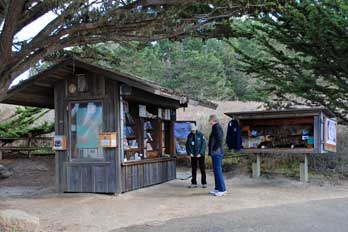 Diving and Kayaking
Diving at Point Lobos Reserve takes you to a hidden wonderland of invertebrates, sea mammals, fish, plants, and rock formations. Divers explore places such as Bluefish Cove, Cannery Point, and Whaler's Middle Reef. Kayakers enjoy exploring the maze of coves and inlets along the Point Lobos coast.
Diving Information
Any kind of underwater adventurer must secure a reservation to dive at Point Lobos. For reservations, see online dive reservation. There is a $10 per person activity fee for divers and snorkelers. Divers and their boats must enter and exit the water at the ramp at Whalers Cove parking lot. Divers are limited to Whalers Cove and Bluefish Cove. Other parts of the Reserve are closed to diving.
Boats, Kayaks and Paddle Boards
Kayaks, stand-up paddle boards, and other hand launchable boats 17 feet or less are allowed to be launched at Whalers Cove. Pay a $5 launch fee at the entrance station. On weekends reservations are mandatory for bringing a boat into the Reserve.
Ocean Safety
California State Parks and Recreation cautions that "large surf, cold water temperatures, backwash, sudden drop-offs, pounding shorebreak, and dangerous rip currents can turn what seem like safe activities such as playing near the surf line, wading, or climbing on rock outcroppings, deadly." Learn more about ocean safety at CA State Parks: Ocean Safety