Redondo Beach Pier
The Redondo Beach Pier has begun major renovations, with an eye toward bringing back the ambiance and appearance of a classic ocean pier. The entire process will take several years, but in the meantime the pier is open 24 hours a day and continues to be as much fun as ever. Visitors to the pier will enjoy a variety of shops, 19 restaurants, bars with live music, and a busy schedule of events.
Caution: Check with rangers or lifeguards that conditions are safe for your planned activities.
What's Happening on the Pier?
Fishing
Fishing takes place on the 300-foot extension of the pier on its south side. Known as Fisherman's Wharf or Monstad Pier, it is very popular with local anglers and often is crowded. Other parts of the main horseshoe shaped pier, known as the Municipal Pier, are also designated for fishing. Check the signs.
Fishing here is good for larger game fish such as halibut, bonito, yellowtail, and mackerel. Anglers also land a fair number of guitarfish, rays, and sharks. Bait cutting platforms are found a regular intervals. Fish cleaning stations are available, as well as restrooms, benches and lights for night fishing. A bait and tackle shop is located on the pier. The pier is open 24 hours a day.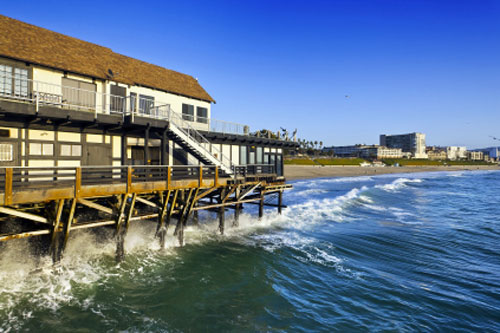 Restaurants on the Pier
Charlie's Place, outdoor seating for fast food.
El Cinco de Mayo, Mexican cuisine, great for take-out.
El Torito, Mexican cuisine.
Kilkenny's, Irish pub
Kincaid's Bayhouse, classic American grill - eat indoors or out, enjoy steak, fish, and more.
Oriental Breeze, Japanese cuisine, sushi.
Pacific Fish Center, seafood.
Pier Bakery, churros, cotton candy
Pier Express, snacks, drinks, ice cream
Pier Ice Cream
Pier Seafood
Portside Cafe, Outdoor seating - seafood, Mexican, and more
Redondo Beach Crab House, shellfish specialty
Redondo Coffee Shop, open from breakfast, lunch, and dinner
Tony's, bar and restaurant, opened in 1952
Zeppy's Pizza, slice or whole pie
Shops and Services on the Pier
God's Awesome Blossoms, gifts, fresh flowers
Kobe Pearl, jewelry
Mermaid's Dowry Redondo Gifts, souvenirs, gifts
Mie Pearl, jewelry
Redondo Sportswear, clothing, gifts
Shark Attack, gifts, toys, souvenirs
Slightly Different, dolls, gifts
Sunshine Kite Factory
Tony's Hats 'n Things, beach clothing, sunglasses, and hats
USA Sports five, sports clothing, hats
Surfing Redondo Beach
Redondo Beach's surfing tradition reaches back to the early 20th century when George Freeth arrived from Hawaii and introduced the sport to the West Coast. Spectators gathered on Redondo Beach to watch Freeth's amazing feats on his 8-foot surfboard.
Today Redondo's surfers seek out the waves south of the pier at spots such as Topaz Street, an exposed beach and jetty break. and short distance farther south at Knob Hill Avenue. Another favorite spot is a short distance to the north at Herondo Street.
Surfing Lessons and Camps
Perfect Day Surf Camp
Surf Camp, Beach Summer Camp, and Toddler Beach Camp for ages 3 to 17 at Redondo Beach. Surfing mixed with boogie boards, volleyball, and beach activities. Half day morning or afternoon sessions. Group and private surf and stand-up paddleboard lessons.
Pacific Coast Surf Company, LLC
Private or small group 90-minute lessons, schedule at your convenience, available 7 days a week.
Surf Shops
Surf N' Dive Shop, 504 N. Broadway, Redondo Beach. rentals - surfboards, wetsuits, boogie boards, diving gear. Sales- wetsuits, rashguards, clothing, wakeboards, and more.
Soul Performance, 2215½ Artesia Blvd., Redondo Beach. Surfboard, kiteboards, skateboards sales.
Volleyball
Volleyball courts are found at intervals along Redondo Beach, especially from Topaz Street to Knob Hill Avenue, at Avenues A & B (slightly south of Knob Hill), and at Avenues G & H (at the southern end of Redondo Beach).
Beach Volleyball Camps
Sinjin Smith and Randy Stoklos' Beach Volleyball Camps offer a summer beach volleyball camp at Redondo Beach. Participants can join for one day, 5 days, 10 days, 20 days, or the entire summer. They also offer a Sand & Sea Beach Camp. Check their website for current dates and prices. They meet on the beach between avenues F and G.
Beach Volleyball Camps
Festival of the Kite
Redondo Beach's annual Festival of the Kite is usually held on a Sunday in early March. Hundreds of kites flutter aloft above the sand, dipping and shaking, straining against their taut strings. Kites of every color and shape mingle in the sky - box kites, stunt kites, dragon kites, animal shapes.
The festival has been going on for nearly 40 years. Prizes are awarded for the best handmade kite, the highest flying kite, and the best ground display. There are also awards for the youngest flyer and the youngest-at-heart flyer. Some kites have climbed about 750 feet into the air.
Along with the kites are a yo-yo competition, a drum circle, a martial arts demonstration, and a hot-dog-on-a-stick eating contest. The festival runs from noon to 5:00 PM.
Redondo Sport Fishing Pier
The 250-foot Redondo Sportfishing Pier is immediately south of Seaside Lagoon in King Harbor. Redondo Beach Sportfishing is located there. They offer half-day and three-quarter-day fishing charters aboard their two vessels Redondo Special and Indian. Whale watchers set out in the winter months aboard the 65-foot Voyager.
The newly remodeled Landing Office sells fishing licenses and snacks; they rent and sell fishing tackle..
Polly's on the Pier
Polly's is well known for serving up good food on the Sport Fisherman's Pier. They are open for breakfast and lunch. Waterfront views make it a great place to enjoy a meal. They offer everything from omelets and huevos rancheros to country-fried steak and seafood platters.