Quick Tour of Redondo Beach
Waterfront Attractions
For a more in-depth review of the activities available at these sites, see out BEACH ACTIVITIES page.
Redondo Beach Pier
The Redondo Beach Pier has begun major renovations, with an eye toward bringing back the ambiance and appearance of a classic ocean pier. The entire process will take several years, but in the meantime the pier is open 24 hours a day and is as much fun as ever. Visitors to the pier will enjoy a variety of shops, 19 restaurants, bars with live music, and a busy schedule of events. More . . .
Redondo Beach International Boardwalk
Pedestrians mingle and flow along the Redondo Beach Boardwalk that leads from the northern terminus of the pier around Redondo Beach Marina. Along its course are a number of colorful shops and venues. One of the most popular is the Redondo Fun Factory, an arcade filled with amusements. More . . .
Bike Trail
The Marvin Braude Bike Trail passes through Redondo Beach. The full trail extends 22 miles between Will Rogers State Beach in the north and Torrance County Beach. It is a popular route for cyclists because of the convenience of restrooms, drinking fountains, and restaurants along the way. More . . .
Redondo Sportfishing Pier
The 250-foot Redondo Sportfishing Pier is immediately south of Seaside Lagoon in King Harbor. It is the place to go to catch a charter for a day of fishing on the ocean or whale watching. The newly remodeled landing office sells fishing licenses and snacks. They also rent rods and reels. Polly's on the Pier serves up great meals. More . . .
Seaside Lagoon
Along the shore of King Harbor near the Sportfishing Pier, the popular Seaside Lagoon is a protected saltwater lagoon for swimming, sunbathing, and volleyball. Children's play equipment is available there along with a snack bar and a grassy area. It is open from May 25, 3013 to September 2, 2013. More . . .
Veterans Park
Veterans Park's 6 acres are home to the Veterans Park Community Center and the Veterans Park Senior Center. The park is located just south of the pier at South Catalina Avenue and Esplanade. Also included in the park are large areas of grass, a veterans memorial, and children's play equipment. The Redondo Beach Farmer's Market is held in front of Veterans Park on Thursday mornings.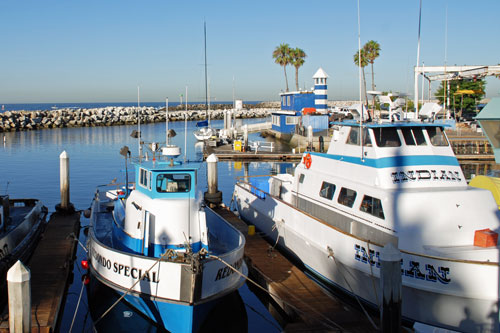 King Harbor
King Harbor is a small craft harbor with almost 1,400 slips. The harbor is subdivided into four marinas: King Harbor Marina, Port Royal Marina, Portofino Hotel & Marina, and Redondo Beach Marina. Redondo Beach Marina has boat rides, sport fishing, a boat hoist and more. More . . .
Redondo Beach
Redondo Beach's waterfront draws visitors to its sand, its water, and all the activities and attractions the from Redondo Beach Pier to Seaside Lagoon to King Harbor. The beach extends 1½ miles south from the pier, connecting with Torrance City Beach.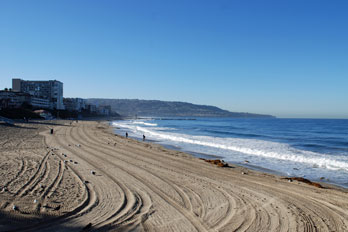 Redondo Beach's surfing is well known around the state. The waves, which can be challenging, attract beginners to experts. Lifeguards are on duty during daylight hours. Sun bathers enjoy the expanse of sand with so many restaurant and other services conveniently at hand. Boogie boarders like the steady surf, while anglers do well fishing from designated areas on the pier.
Parking at Redondo Beach
Visitors to Redondo Beach Pier, King Harbor and the beach area have a choice of parking lots. The most convenient are the two Pier and Plaza Parking Structures. Several other nearby city parking lots are available along with some street parking.
Pier & Plaza Parking Structures
100 West Torrance Boulevard and
180 North Harbor Drive at Pacific
These two structures have a combined 1,350 spaces.
Rates and Payment Options:
May 1 to September 30 - $2.00 per hour ($1.50 for first hour on weekdays between 8 AM and 6 PM)
October 1 to April 30 - $1.50 per hour ($0.50 for first hour on weekdays between 8 AM and 6 PM)
Park, note your space number, pay at an automatic Pay Station with credit card or exact change.
Convenient Tip: Pay by credit card and submit your cell phone number. When time is about to expire you will receive a text alert and you can extend your time by replying to the text.
Parking Lots and Nearby Streets with Meters
All these lots and streets have parking meters that accept quarters only. $0.25 for 15 minutes.
Parking Lot 13 - Yacht Club Way at North Harbor Drive (by north end of marina)
North Harbor Drive - from Pacific Avenue to Yacht Club Way
George Freeth Way - along the ocean side of Veterans Park, south of Torrance Boulevard
Parking Lot 5 (Veterans Park)
Public Transportation to Redondo Beach
Beach Cities Transit (BCT) connects Redondo Beach, Hermosa Beach, Manhattan Beach, and El Segundo. The fare is $1.
The BCT 109 Line runs from 6:00 AM to 10:00 PM between Redondo Beach Riviera Village and LAX City Bus Center. Stops along the way include Redondo Beach Pier, King Harbor, Hermosa Beach Pier Avenue, Downtown Manhattan Beach, Manhattan Village Mall, Douglas Green Line Station, downtown El Segundo, and Aviation Green Line Station.
The BCT 102 Line's stops include Redondo Beach Pier, Civic Center, Redondo Union High School, Beach Cities Health District, South Bay Galleria, and the Redondo Beach Green Line station. Its hour of operation are 6:00 AM to 8:00 PM.
The Green Line Station is a Metro Rail system stop where riders can access or make connections to the Metro Blue, Expo, Green, Red, Purple and Gold Lines and ride to a wide range of places throughout Los Angeles.
Ocean Safety
California State Parks and Recreation cautions that "large surf, cold water temperatures, backwash, sudden drop-offs, pounding shorebreak, and dangerous rip currents can turn what seem like safe activities such as playing near the surf line, wading, or climbing on rock outcroppings, deadly." Learn more about ocean safety at CA State Parks: Ocean Safety