Twin Lakes State Beach
Junior Lifeguards
Every summer the State of California Department of Parks and Recreation offers its Junior Lifeguards program at Seacliff State Beach. Junior Lifeguards' teaches children how to deal with various water safety situations. The program consists of day camps (usually lasting three to five weeks) that provide instruction in first aid, CPR, ocean safety, rescue techniques, surfing and bodyboarding. The Santa Cruz area programs are held Monday through Friday from 10:00 AM to 3:00 PM.
The Santa Cruz State Junior Lifeguard Program is offered at Twin Lakes, Rio Del Mar, and Manresa State beaches for children ages 6-15. The program for 6-8 year-old children will only be offered at Riod Del Mar Beach, along with programs for 9 to 15 year-old children. The Twin Lakes Junior Lifeguard program meets on the Black Beach side of Twin Lakes Beach. Children new to the programs must attend the April or May swim test tryouts.
Santa Cruz State Junior Lifeguards
(831) 212-7223 or (831) 476-4992
Twin Lakes State Beach 2018 Junior Lifeguard Schedule (ages 9-15)
Session I - June 18 - July 13, 2018
Session II - July 23 - Aug. 17, 2018
Cost: $440 per session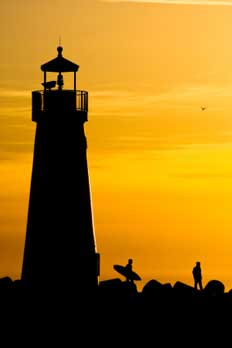 Surfing
On the east jetty of the Santa Cruz harbor is Murph Bar, known for its hollow beach break. This two-way sandbar peak is the result of the dredging that goes on to keep the harbor mouth clear. The best time for Murph Bar is with the swell coming in anywhere from the northwest to the south. Another spot known as the Harbor is, not surprisingly, near the entrance to the harbor.
Boogie boarders have a great time at Twin Lakes Beach as do skim boarders and body surfers.
Caution: Check with rangers or lifeguards that conditions are safe for your planned activities.

Monterey Bay Area Water Temperatures
Santa Cruz County Water Quality Reports