Twin Lakes State Beach
Into the Surf
Twin Lakes is popular for all kinds of water activities from surfing and boogie boarding to stand-up paddle boarding and kayaking. The relatively warm waters along the beach make it popular for swimming and playing in the surf.
Twin Lakes Beach stretches for a mile along the Santa Cruz coast on either side of Santa Cruz Harbor, from the San Lorenzo River to Black Point. Twin Lakes State Beach includes Seabright State Beach and Schwan Lake. Many who want to enjoy the Santa Cruz experience, but without the crowds, opt for Twin Lakes. The beach offers great views of Walton Lighthouse.
Wildlife
An abundance of wildlife is found around Twin Lakes. Out beyond the waves keep an eye out for harbor seals, sea lions, dolphins, sea otters, and whales. The best season for whales is from mid-December through mid-April, with January being the peak month. A variety of birds are seen around the beach and at nearby Schwan lake, including gulls and cranes.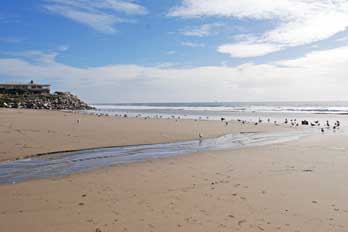 Food and Supplies
Services and shops in the city of Santa Cruz are within walking distance from Twin Lakes Beach. A number of restaurants and shops are found around Santa Cruz Harbor. One of the most popular restaurants there is The Crow's Nest. Next door is a nice little coffee shop, The Kind Grind. More choices are found within a couple of blocks along Seabright Avenue.
Parking near Twin Lakes Beach
Parking near Twin Lakes State Beach is limited.
Live Oak Parking Permits
Virtually all of the residential streets east of the harbor and near the beach along East Cliff Drive are part of the Live Oak Parking Permit Streets operated by Santa Cruz County (see the streets highlighted in orange above on the map).
Motor vehicles parked in the road right-of-way from the first weekend in April through Labor Day must display a valid Live Oak Parking Program permit, or a citation will be issued. Enforcement hours are 11:00 a.m. to 5:00 p.m. on Saturdays, Sundays, and the following holidays: Memorial Day, Independence Day, and Labor Day.
Visitors may purchase parking permits from the Live Oak Parking Trailer located at the corner of 9th Avenue and East Cliff Drive between 10:00 AM and 5:00 PM on weekends and holidays (or purchase from parking attendants patrolling the zone).
Annual Visitor Permit - $35;
motorcycles $8, trailers $10
Live Oak Parking
Day Permit - $8, no application necessary.
Santa Cruz Harbor
Parking at Santa Cruz Harbor in the metered spaces is $1 per hour in the South Harbor area and 75¢ per hour in the North Harbor. Day Passes are $10.
Seabright Parking Area
A small area near Seabright Beach is part of a residential parking permit zone that is enforced from May 15 to September 30. Parking in this area (highlighted on the map in light purple) without a permit is not allowed. An additional Seabright Parking Zone is also found north of the railroad tracks (not shown on map).
Other Parking
Always confirm parking information on street signs. Changes may have been made since our map was published. We cannot be responsible for any errors on our map.
Negotiating Santa Cruz Streets
A number of one-way streets around the harbor and Twin Lakes Beach can make driving a challenge for those unfamiliar with Santa Cruz. A good street map is very helpful.
Ocean Safety
California State Parks and Recreation cautions that "large surf, cold water temperatures, backwash, sudden drop-offs, pounding shorebreak, and dangerous rip currents can turn what seem like safe activities such as playing near the surf line, wading, or climbing on rock outcroppings, deadly." Learn more about ocean safety at CA State Parks: Ocean Safety